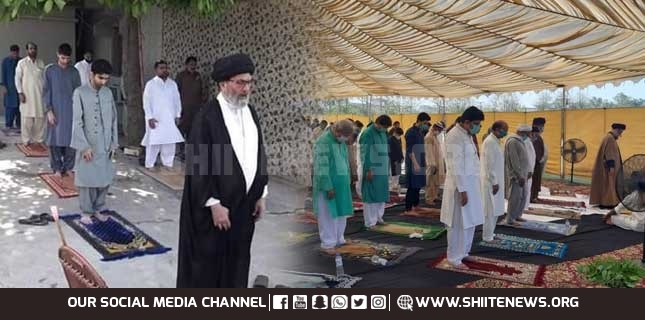 Shia Muslims offer Eid prayers while acting upon SOPs regarding Covid19 on Eid-ul-Fitr on Sunday.
Pakistani Shia Islamic community observed Eid with simplicity to express solidarity with the families of PIA plane crash and victims of Coronavirus.
Shia Muslims offer Eid prayers
The Eid prayers leader at Shia Islamic mosques also prayed for welfare and prosperity of the country and the nation.
Faithful went to mosques wearing masks and refrained from handshake and hugging under SOPs.
Allama Raja Nasir Abbas Jafri spent the Eid day at his seminary in Islamabad while Allama Sajid Naqvi spent Eid at his home in Rawalpindi.
Both of them also met their respective parties' leaders and seminary's teachers and pupils.
Earlier, Chairman Central Ruet-e-Hilal Committee Mufti Muneeb-ur-Rehman made announcement of moon sighting on Saturday night.
Pakistan government's Central Ruet-e-Hilal Committee or moon sighting committee held meeting in Karachi.
The chairman told the media that the committee received several witnesses from Balochistan and other parts of the country about sighting of the moon.
The Zonal and district Ruet-e-Hilal Committees also met in their respective areas.
They also collected evidences in respect of sighting or otherwise of the Moon.
However, war of words among government ministers and committee made the moon sighting controversial.
Some people, including Sunni and Shia notables also saw lack of transparency in Mufti Muneeb's conduct; hence they preferred confirmation directly through authentic witnesses.
Meanwhile, MWM's Allama Mukhtar Imami quoted veteran Shia Islamic scholars Allama Hyder Ali Javadi and Allama Mohsin Mehdavi as having confirmed the moonsighting.
Those veteran scholars also received witnesses.
Allama Shabbir Maisami of Shia Ulema Council also confirmed Eidul Fitr on Sunday, 1st Shawwal.
However, he clarified that earlier, SUC could not confirm it because of lack of witnesses and after having got it confirmed they called for celebrating Eid on Sunday.