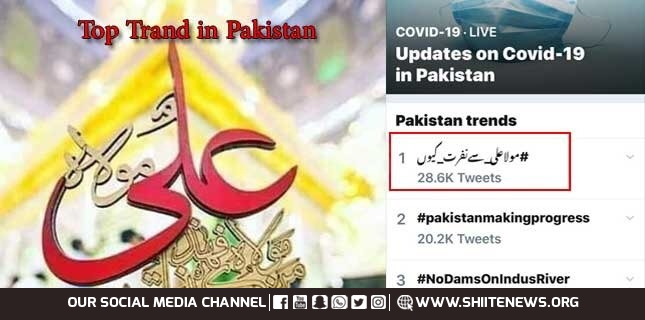 Maula Ali se nafrat kyoon or Why Hatred Against Maula Ali becomes top trend on social media.

The Urdu hashtag Maula Ali se nafrat kyoon remained the top trend on Twitter.com in Pakistan.
Social media users expressed their love and respect for Hazrat Ali, the Imam and the ruler of Islamic government.
For some days, takfiris and nasbis tried their level best to mislead people through malicious propaganda.
Although they themselves hold gatherings violating social distance and general public also gather at markets and bazaars for shopping, the takfiris and nasbis campaigned against Youm-e-Ali, the martyrdom anniversary of Maula Ali (AS).
While reacting to the hate mongering takfiris and nasbis propaganda, people introduced the trend on social media asking why hatred against Maula Ali (AS).
Again, nasbis and takfiris tried to mislead people by another trending on Maula Ali.
This time, they had to use the term Maula Ali; otherwise they had never used this term. They had been opposing the term Maula Ali in the past.
On the one hand, the Urdu hashtag Maula Ali se nafrat kyoon emerged as top trending on Twitter.
And on the other hand, nasbis and takfiris had to use the term Maula for Hazrat Ali.
It was humiliating defeat of the nasbis and takfiris.