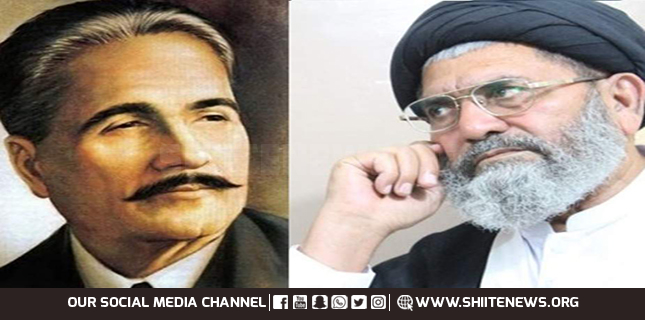 Allama Sajid Navi asks people to benefit from Allama Iqbal's thoughts; specially his call for unity of Muslims.
Shia Ulema Council (SUC) Pakistan founder leader Allama Syed Sajid Ali Naqvi said this in his message on the 82nd death anniversary of Dr Muhammad Iqbal.
In Pakistani lexicon, nation reveres pioneers of Pakistan Movement Dr Muhammad Iqbal as Allama Iqbal.
Allama Sajid Navi asks people
Veteran Shia Islamic scholar Allama Sajid Naqvi emphasised that we should get help from the ideology of Allama Iqbal to sort out problems which nation face with.
He said that poetry, philosophy or thoughts of Allama Iqbal remain relevant even today. He called thoughts of Allama Iqbal greatly important that can help solve many problems.
SUC leader said that Allama Iqbal dreamt of a united Ummah and a free and independent sovereign nation-state for welfare of Muslims in subcontinent.
Therefore, Allama Sajid Naqvi appealed to Pakistanis to work in this direction to realise the dream of Allama Iqbal.
Born on November 9, 1877 in Sialkot Dr. Iqbal represented the Subcontinent on many forums.
However, he later emerged as one of the main exponents of the Pakistan Movement.
People and experts also regard him as Muslim mystic poet of the modern age.
As a great poet, thinker and philosopher he infused a revolutionary spirit in the Muslim youth of the Subcontinent at the time through his poetry.
He received the title of Allama due to his deep thinking and far-sightedness.
Allama Iqbal's poetry has been translated into Spanish, Chinese, Japanese, English and several other languages. The poet philosopher died on April 21, 1938.
Founder of Pakistan Quaid-e-Azam Mohammad Ali Jinnah revered Allama Iqbal as National Poet.