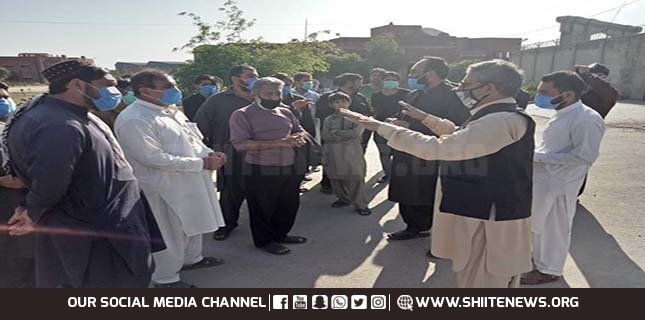 121 Zaireen leave DIK quarantine centre for homes after negative test reports.
These pilgrims belong to various areas of the country. Government first kept them under custody at Taftan border down quarantine centre for two weeks.
121 Zaireen leave DIK quarantine centre
Later, they shifted them to provincial quarantine centre of Khyber Pakhtunkhwa in Dera Ismail Khan (DIK) district.
However, locals of the area said they saw relatively better arrangements at DIK quarantine centre.
Al Majlis Disaster Management Cell also provided help to the Zaireen through the administration of the quarantine centre.
MWM DIK chapter secretary general Allama Ghazanfar Abbas Naqvi bid farewell to the Zaireen.
He expressed hope that Zaireen would remember the hospitality of faithful of DIK and the concerned staff at quarantine centre.
People of Pakistan dismayed
However, Zaireen and Shia Muslims of Pakistan have protested over bias and discriminatory double standards in the government's measures to fight COVID19 spread.
They noted that government had not applied this Zaireen-specific policy to others.
They said the government had allowed Deobandi Tableeghi Jamaat to hold its preaching congregation in Raiwind Lahore.
Tableeghi Jamaat members from all over Pakistan and even from abroad gathered on March 10, 2020. Only downpour forced them on March 12 to wrap up the congregation.
Nonetheless, they had not dispersed to return homes but they spread all over Pakistan on preaching mission.
Even after having found them infected with Coronavirus, government continued to deal with them softly.
Deobandi preaching party or Tableeghi Jamaat members stabbed police officer in Layyah and also attacked policemen in Hyderabad.
The Tableeghi Jamaat preaching parties continued to stay at mosques and seminaries but government is hoodwinking people saying they have quarantined them there.
People of Pakistan have expressed dismay over this biased double standard and two different policy to deal with same pandemic threat.
They say it would not help prevent spread of Coronavirus pandemic but instead it has already spread through Deobandi Tableeghi Jamaat and those others returned from other countries.
Notably, at least 1 million have entered Pakistan from abroad but returned homes without spending even a single day at government's quarantine centres.
On the other, those Shia Zaireen who returned Pakistan vias Taftan border crossing had to undergo more than one-month quarantine under the government's supervision.
Victims legitimately call this religious/sectarian discrimination and Pakistan is paying heavy price for exempting others from quarantine.
Resultantly, people who returned from Saudi Arabia, UAE, elsewhere or attended Deobandis Tableeghi Ijtima (congregation) Raiwind, have spread the deadly virus.
Some of them have died of the COVID-19 but government target Zaireen only and that too differently.