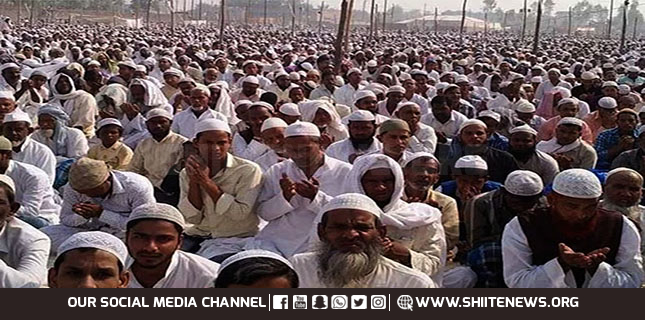 Tableeghi Jamaat attacked Hyderabad police after Coronavirus positive tests.
Tableeghi Jamaat attacked Hyderabad police after Coronavirus positive tests of their two members in Noor Masjid Qasimabad.
Doctors-led medical staff had gone to Deobandis' Noor Masjid. The first class magistrate (Mukhtiarkar) and police had accompanied them.
Tableeghi Jamaat attacked Hyderabad police
When they told the Tableeghi Jamaat of positive tests of two of their members for Coronavirus and subsequent quarantine and treatment, the Deobandi preaching party began attack.
They used batons and sticks in the attack and pushed them out of the mosque.
Finally, Pakistan Rangers (Sindh) had come to rescue the medical team and the police.
Later, they shifted the two members to quarantine centre.
Earlier, Deobandi Tableeghi Jamaat member stabbed SHO in bid to flee quarantine centre.
The station house officer (SHO) sustained injuries in Layyah when the Tableeghi Jamaat member Abdul Rehman attacked him with a knife.
Deobandi preaching party member attempted to escape because police sought to quarantine them due to positive tests for Coronavirus.
SHO Ashraf shifted to hospital for treatment.
Later, the police and district administration approached the organisers and with their 'permission' cordoned off the Markaz.
It remains amazing that the state officials get permission from Deobandi Tableeghi Jamaat despite stabbing of SHO and despite presence of Coronavirus patients.
Double standard
On the other hand, biased police victimise law-abiding Shia Muslims as Sindh police named veteran scholar Allama Mirza Yousuf in false case
Karachi's Nazimabad police registered an FIR against Allama Mirza Yousuf Hussain, his son and others.
Biased police falsely accused them of violating section 144 although they had not violated the law.
Deobandi Tableeghi Jamaat senior member died
Meanwwhile, Deobandi Tableeghi Jamaat senior member died of Coronavirus in Khyber Pakhtunkhwa province.
Major Ilyas (retd) belonged to Deobandi Tableeghi Jamaat for a long time. He hailed from Abbottabad.
People largely attended the funeral prayers, procession and burial rituals in Kahyal graveyard near his house.
Since he died of Coronavirus, experts alert that the participants of the funeral rituals might also have suffered from the pandemic.
The attendees reportedly had not observed precautionary measures there.