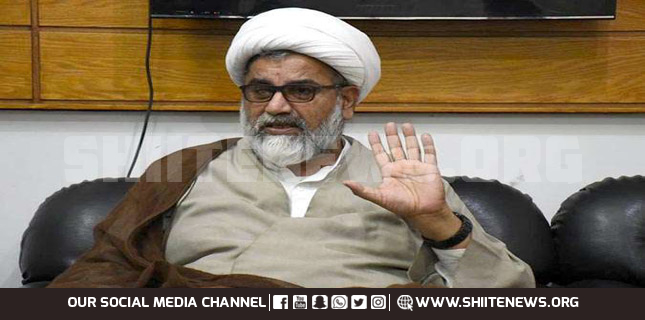 Allama Raja Nasir asks nation to pledge on the Pakistan Day that they would make every effort to prevent Coronavirus spread.
He said this in a message on 23rd March which Pakistani nation celebrates as Pakistan Day.
On March 23, 1940, Muslim leaders of the subcontinent had adopted Lahore Resolution in which they had demanded Muslim government in the Muslim majority areas of British-occupied India.
Allama Raja Nasir asks nation
However, Coronavirus threat has marred 23 March 2020 celebrations.
The government also had to cancel Pakistan Day Parade.
In view of all this, Majlis-e-Wahdat-e-Muslimeen secretary general Allama Raja Nasir Abbas Jafari urged supporters to focus on fight against the deadly pandemic.
Meanwhile, Allama Raja Nasir said that united efforts of nation would ensure early elimination of the pandemic in Pakistan.
Shia Islamic scholars unanimously support precautionary measures to prevent spread of Coronavirus in Pakistan.
In this regard, they are also cooperating with the government.
But unfortunately, government had not enforced uniform policy for people coming from abroad which resulted in spread of Coronavirus.
Allama Sajid Naqvi proposes APC amid Coronavirus threat in Pakistan