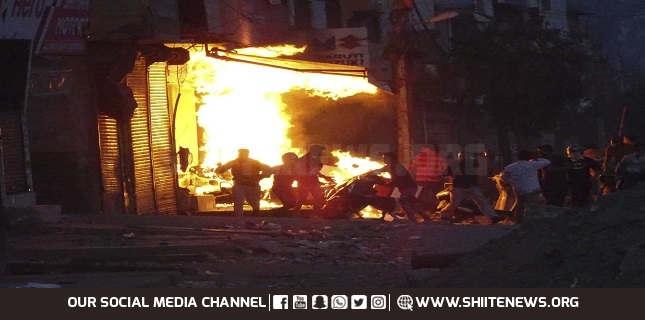 Shia Islamic scholars condemn ferocious attacks on Muslims in India.
They slammed Prime Minister Narendra Modi as Pharaoh and Yazid of the time.
Eminent scholar Allama Hasan Zafar Naqvi said that atrocious violence against Indian Muslims had reached its height.
Meanwhile, Allama Yousuf Hussain Jafari condemned desecration of mosques and killing of Muslims in New Delhi.
Shia Islamic scholars condemn
He urged United Nations to take notice of it. He also criticized Muslim regimes for their silence over atrocities in IOK.
Allama Jafari said that Muslim regimes silence over atrocities in occupied Kashmir encouraged Modi led BJP government of India.
He lamented that Arab regimes were conferring the highest awards to Indian PM Modi when Indian occupation forces were killing and attacking Kashmiris in IOK.
The scholar Yousuf Jafari said people of Parachinar express solidarity with Indian Muslims and Kashmiri.
On the other hand, Allama Javad Naqvi also censured India over crimes against humanity.
He suggested that Muslims of India have to choose course of freedom struggle to rid them anti Muslim India.
Shia Ulema Council leader Allama Nazir Hussain Taqvi said that Narendra Modi has a dirty mindset.
He accused him of putting the entire India on fire due to his dirty mindset.