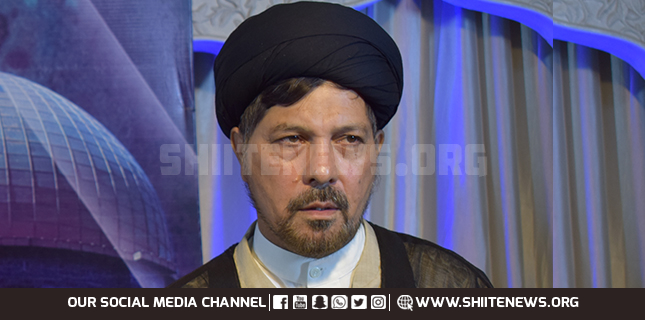 Allama Baqir Zaidi condoles over death of ex nazim Karachi Naimatullah Khan.
Majlis-e-Wahdat-e-Muslimeen Sindh chapter issued condolence statement of provincial secretary general Allama Syed Baqir Abbas Zaidi.
MWM leader offered condolences to heirs of Naimatullah Khan on behalf of Shia Muslim community and MWM leadership and supporters.
He prayed God Almighty rest the departed soul in eternal peace.
Allama Baqir Zaidi condoles
He also prayed for fortitude to the heirs.
Allama Baqir Zaidi lauded the services of Naimatullah against sectarian and ethnic hatred.
He also recalled Naimatullah's support to Quds Day rallies and other events held against imperialism and Zionism in the city.
He praised the deceased a sincere and humanity-friendly man.
MWM leader referred to his services to humanity which include arranging wedding of orphaned or downtrodden females and employment opportunities for jobless youth.
Allama Zaidi lauded him for serving Karachi city as nazim. He said that during tenure of Naimatullah Khan Karachi witnessed relatively more development.
Jamaat-e-Islami leader Naimatullah Khan passed away at the age of 89 years. He suffered from protracted illness.
He had serve as the first Nazim of Karachi after 2001 local government election held in accordance with new LG system.