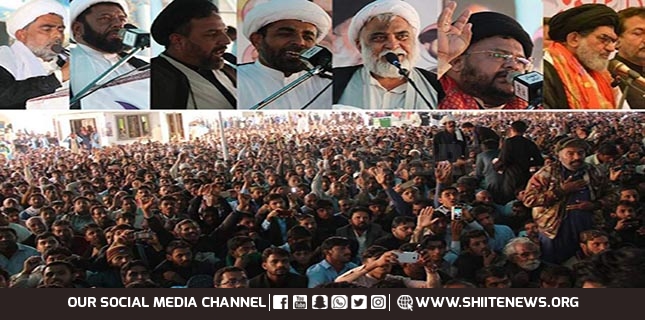 Shia Ulema Council observe chehlum of Qassem Soleimani in Sehwan Sharif and also commemorated the anniversary of martyrs of suicide bombing at Lal Shahbaz Qalandar.
Allama Taqi Shah Naqvi, Allama Baqir Najafi, Allama Nazir Taqvi and other leaders of SUC spoke on the occasion.
They demanded the Sindh Chief Minister to make public identity of the terrorists who masterminded and perpetrated suicide bombing at the shrine.
They also demanded that the military court should try the Sehwan Sharif shrine suicide attack case.
Shia Ulema Council observe chehlum
SUC leaders said that thousands of people, including heirs of the martyrs participated in the anniversary of martyrs and chehlum of Qassem Soleimani and Abu Mahdi Mohandis.
They further said the participants gave a clear message to terrorists that they cannot scare Shia Muslims and their faithful ideology. They said that people remember great martyrs.
Meanwhile, some of them demanded that the government should establish a new Lal Shahbaz Qalandar Force.
They suggested the government should assign security of the shrine and surroundings to that force.
They also demanded razing shops in the shrine premises and more facilities to the pilgrims.
Moreover, they said that US and Israel have put the peace of entire world at stake through their illegal provocative operations.