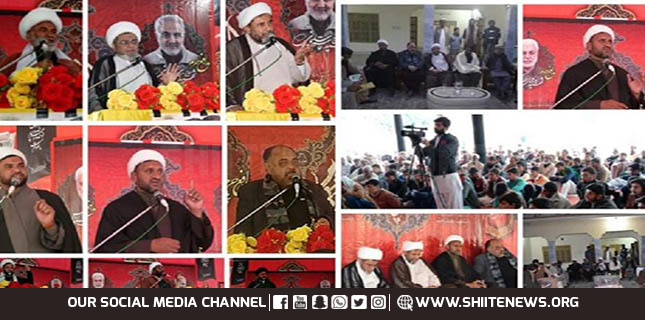 Chehlum of Qassem Soleimani and Abu Mahdi Mohandis held in Attock's Jund town where Shia Ulema Council leaders spoke.
The SUC Attock chapter and Anjuman Sipah e Abbas jointly organised the mourning public meeting at Imam Bargah Qasre Abbas Mohallah Hussainabad in Jund (Attock).
Veteran Shia Islamic scholar Allama Ramzan Tauqeer, Allama Arif Wahidi, Allama Shabbir Maisami spoke on the occasion.
Chehlum of Qassem Soleimani
The participants and speakers eulogised the great martyrs of Islamic resistance.
They paid tributes and homage to commanders Soleimani and Mohandis for their leading role in elimination of takfiri terrorism.
Specially, they praised them for protecting sacred shrines of Ahle Bayt and companions of Prophet Hazrat Mohammad (PBUH).