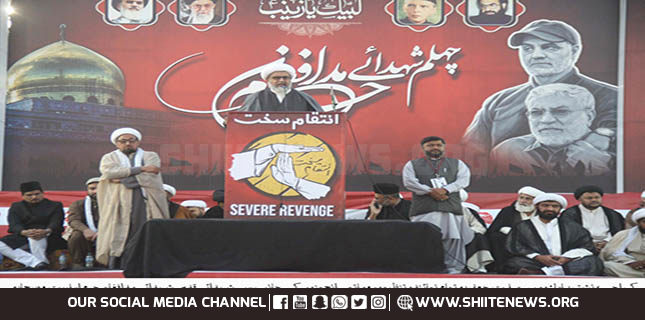 Karachi observes chehlum of Qassem Soleimani and Abu Mahdi Mohandis with fervour and reverence on Sunday.
Tens of thousands of people from Karachi and some other districts of Sindh province thronged Nishtar Park.
They were raising slogans in support of Islamic resistance. They paid respect to the great martyrs of axis of resistance.
Karachi observes chehlum of Qassem Soleimani
The mourners also condemned Israel, US and their allied regimes.
Those who addressed the chehlum public meeting included: Allama Raja Nasir Abbas Jafri, secretary general  MWM, Sunni Ittehad Council's Sahibzada Hamid Raza, ISO central president Arif Hussain Aljani, Allama Mukhtar Imami, JUP-N leader Allama Qazi Ahmed Noorani, Allama Baqir Zaidi, Allama Sadiq Jafari, Allama Mirza Yousuf Hussain, Manzarul Haq Thanvi and Allama Nazir Taqvi of Shia Ulema Council.
Majlis-e-Wahdat-e-Muslimeen secretary general said that General Qassem Soleimani defended oppressed humanity.
MWM Pakistan leader speaks
Allama Raja Nasir said Soleimani played leading role for protection of Holy Quds and shrines of Prophets (PBUT) and Ahle Bayt (AS).
Due to his leading and supporting role for Palestine resistance movements against Israel and its allies, people revere Qassem Soleimani.
Palestinians adore him. Ismail Haniyeh called Qassem Soleimani Martyr of Quds.
MWM SG said that Imam Khomeini had held US responsible for terror and mischief around the world.
Sunni Ittehad Council
Sunni Ittehad Council leader Sahibzada Hamid Raza said that Soleimani would be remembered forever.
He emphasised that we must respect and revere Soleimani who always implored God for martyrdom.
He said man is mortal and we all die one day but demise through martyrdom while fighting anti-humanity and anti-Islam forces such as Israel and US made Soleimani great.
Sahibzada further said that Soleimani is hero of Islam and Muslims. He asked who demolished Jannatul Baqee graveyard.
He asked who poses threat to holy shrines of Makkah and Madina: House of Saud or US!?
Daesh terrorists were destroying sacred shrines in Syria.
He said that we missed a chance to make bloc of Islamic countries due to Saudi crown prince MBS.
He suggested that now MBS should be asked to help oppressed Kashmiri mothers and sisters.
Sahibzada Hamid Raza opposed mainstreaming terrorists and killers. SIC leader condemned takfiris.
He congratulated the host for observing chehlum of Qassem Soleimani. He urged them to emulate Qassem Soleimani's ideology for helping Kashmir, Palestine, Yemen, Syria and elsewhere where oppressed people need help.
Imamia Students Organisation
Meanwhile, ISO CP Arif Hussain Aljani said that Qassem Soleimani defended humanity by crushing Daesh terror networks in Middle East.
He said that Qassem Soleimani also protected sacred shrine of Syyeda Zainab (AS) in Syria and shrines of Imams in Iraq.
Arif Hussain also condemned enforced disappearance of loyal sons of Pakistan.
He said that Engr Mumtaz Rizvi, Advocate Yafis Naveed Hashmi and scholar Zaheeruddin Babar have to suffer long incarceration.
He slammed power that be over release of TTP spokesman Ehsanullah Ehsan.
ISO CP supported legitimate struggle of Kashmir and condemned Indian government and Prime Minister Narendra Modi over anti-Muslim policy.