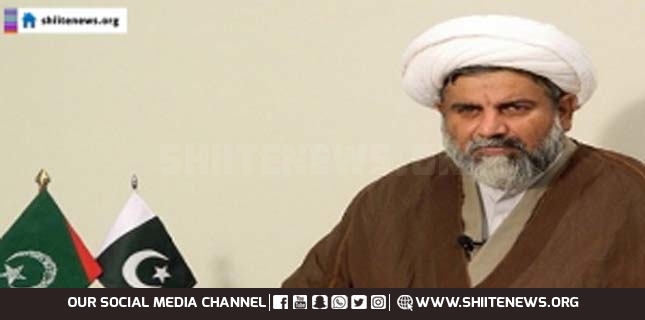 Allama Raja Nasir Abbas Jafari calls US Peace Plan a war against peace.
Secretary General of Majlis Wahdat-e-Muslimeen (MWM) turned down US President's proposed Middle East peace plan.
He issued a statement to register his protest while reaction to the US President's proposed plan.
Allama Raja Nasir Abbas Jafari
MWM secretary general termed the plan actually a war against peace.
He pointed to plan as an open violation of international treaties and agreements and violation of basic human rights.
He termed so-called deal of the century or peace plan a crime against humanity.
Allama Raja Nasir emphasized that Trump with his unilateral decision cannot change geographic boundaries of a state.
He said because of Trump's foolish policies people inside and outside USA are criticizing him
He said that Palestine always belonged to the people of Palestine.
MWM leader said Palestinians would never accept Israeli state which amounts to usurping their land.
Furthermore, he appealed to the Arab world to side with Palestinians rather protecting interests of America and Israel.
President Trump had announced ME peace plan but Palestinian leadership turned down it.
Both Palestine Authority of Mahmoud Abbas and Gaza-based Hamas rejected the US plan.
Even Western media saw a clear and unprecedented tilt in favour of Israel.
Since its establishment in 1947, Pakistan reject idea of Jewish State in Palestine.
Due to ideology of founding fathers of Pakistan, the state of Pakistan don't recognise Israel to date.