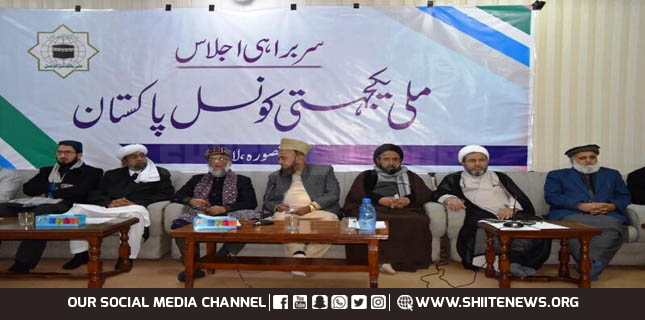 Milli Yekjehti Council Pakistan demand US leave region.
Islamic political parties' alliance made this demand in a meeting of its leaders in Lahore today.
Milli Yekjehti Council Pakistan
The grand alliance of 35 religious parties from all sects of Islam strongly condemned assassination of IRGC Quds force commander Lieutenant General Qasem Soleimani.
Furthermore, they unanimously demanded that the US leave the region.
Jamaat-e-Islami Senator Siraj-ul-Haq hosted the meeting while Chief of the council Sahibzada Abul Khair Muhammad Zubair presided over it.
Sunni Shia leaders condemn US
The religious leaders of Shia and Sunni sects who attended the meeting termed US illegal attack on IRG Quds Force commander Soleimani an attack on the entire Ummah.
They strongly condemned assassination of General Soleimani in Iraq.
Moreover, they said that the region cannot further afford presence of the US forces thus they should immediately leave this area.
Referring to Pakistan's decision to skip Kuala Lumpur summit, they said that the country has to bear consequences of such hasty decisions.
Furthermore, they asked the government to follow an independent foreign policy.
MYC demand relase of Zakzaky
While expressing concerns over the condition of Muslims in Nigeria they called for immediate release of Shia Muslim leader Ibrahim Yaqoob al Zakzaky.
Pakistani nation condemn US
Pakistani nation is expressing solidarity with Iran. Prominent politicians and former diplomats of Pakistan also offer condolences by visiting Iran diplomatic missions.
People across the country conitnue to take out rallies and hosting events to pay homage to said martyrs.
Pakistani delegation left for Iran
Meanwhile, a delegation of Milli Yekjehti Council comprising of Sunni and Shia leaders left for Iran today (Tuesday).
The delegates have departed to offer condolences over the martyrdom of IRGC Quds force commander Lieutenant General Qasem Soleimani.
Liaquat Baloch, Secretary General of the council is leading the delegation. He leads Jamaat-e-Islami as deputy chief.
Soleimani and Mohandis
US military assassinated Iranian military general Qassem Soleimani in illegal airtsrikes in Baghdad.
Iraqi paramiltary Hashd al Shaabi's commander Abu Mahdi Mohandis also embrcaed martyrdom in those unlawful airstrikes.
Iraq Government had officially requested Iranian military help to counter terrorism. Due to that, IRGC Quds Force commander Haj Qassem Soleimani was helping Iraq government becaause of the request.
Abu Mahdi Mohandis was leading Hashd al Shaabi or Popular Mobilisation Force that too was helping Iraq government against Daesh terrorists.
Both of them enjoyed legitimacy and played legitimate role. But, US military perpertrated airstrikes defying Iraq government.
Hence, US Baghdad airstrikes amounted to an attack on Iraq sovereignty in violation of international law.