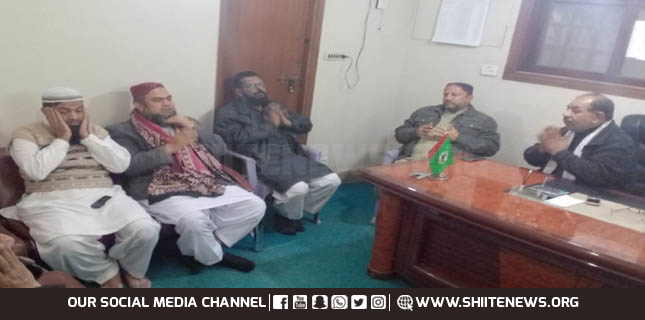 Pakistan Falah Party expresses solidarity with heirs of Qassem Soleimani.
A delegation of the party visited Wahdat House Sindh office in Karachi. The delegation comprised of Allama Munir Shakir, Junaid Munshi, Hafiz Abid, Danish Ali and Zaki Shakeel.
They met Majlis-e-Wahdat-e-Muslimeen Sindh chapter officials including Nasir Hussaini and MWM Karachi's Mir Taqi Zafar.
Furthermore, they condemned the US illegal airtsrikes in Baghdad that assassinated Iran military general Soleimani and Iraq paramilitary commander Abdu Mahdi Mohandis.
Pakistani nation condemn US
Pakistani nation is expressing solidarity with Iran. Prominent politicians and former diplomats of Pakistan also offer condolences by visiting Iran diplomatic missions.
People across the country conitnue to take out rallies and hosting events to pay homage to said martyrs.
Pakistani delegation left for Iran
Meanwhile, a delegation of Milli Yekjehti Council comprising of Sunni and Shia leaders left for Iran today (Tuesday).
The delegates have departed to offer condolences over the martyrdom of IRGC Quds force commander Lieutenant General Qasem Soleimani.
Liaquat Baloch, Secretary General of the council is leading the delegation. He leads Jamaat-e-Islami as deputy chief.
Soleimani and Mohandis
US military assassinated Iranian military general Qassem Soleimani in illegal airtsrikes in Baghdad.
Iraqi paramiltary Hashd al Shaabi's commander Abu Mahdi Mohandis also embrcaed martyrdom in those unlawful airstrikes.
Iraq Government had officially requested Iranian military help to counter terrorism. Due to that, IRGC Quds Force commander Haj Qassem Soleimani was helping Iraq government becaause of the request.
Abu Mahdi Mohandis was leading Hashd al Shaabi or Popular Mobilisation Force that too was helping Iraq government against Daesh terrorists.
Both of them enjoyed legitimacy and played legitimate role. But, US military perpertrated airstrikes defying Iraq government.
Hence, US Baghdad airstrikes amounted to an attack on Iraq sovereignty in violation of international law.