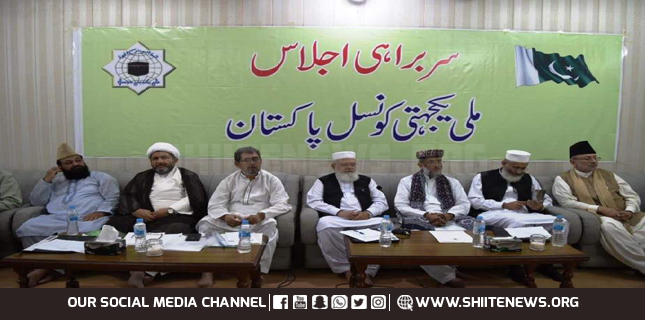 Islamic political parties alliance condole over General Qassem Soleimani assassination.
The eight-member delegation of Milli Yekjehti Council comprising of Sunni and Shia leaders left for Iran on Tuesday.
Pakistani parties' alliance decided to visit Iran to offer condolences over the martyrdom of IRGC Quds force commander Lieutenant General Qasem Soleimani.
Liaquat Baloch, Secretary General of the council is leading the delegation. He leads Jamaat-e-Islami as deputy chief.
The delegation left Allama Iqbal International Airport Lahore for Mashhad holy city.
Islamic political parties alliance
During their eight-day stay in Iran, the delegation members would visit holy cities of Mashhad and Qom and Tehran.
Furthermore, Pakistani delegation would meet Iranian religious and political leaders to convey their condolences over the assassination of General Soleimani.
Soleimani and Mohandis
US military assassinated Iranian military general Qassem Soleimani in illegal airtsrikes in Baghdad.
Iraqi paramiltary Hashd al Shaabi's commander Abu Mahdi Mohandis also embrcaed martyrdom in those unlawful airstrikes.
Iraq Government had officially requested Iranian military help to counter terrorism. IRGC Quds Force commander Haj Qassem Soleimani was helping Iraq government becaause of the request.
Abu Mahdi Mohandis was leading Hashd al Shaabi or Popular Mobilisation Force that too was helping Iraq government against Daesh terrorists.
Both of them enjoyed legitimacy and played legitimate role. But, US military perpertrated airstrikes defying Iraq government.
Hence, US Baghdad airstrikes amounted to an attack on Iraq sovereignty in violation of international law.
Pakistani nation is expressing solidarity with Iran. Prominent politicians and former diplomats of Pakistan also offer condolences by visiting Iran diplomatic missions.