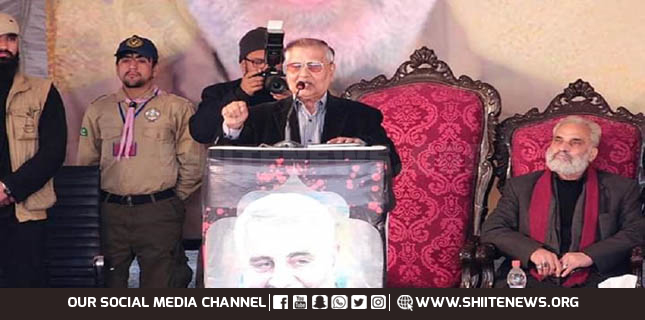 Former Army Chief Mirza Aslam Beg praises Qassem Soleimani as friend.
He showered Haj Qassem Soleimani with praise and lauded Iranian retaliatory strikes at US base in Ain al Assad.
He expressed these views while speaking at Martyrs of Resistance gathering in Islamabad yesterday.
Martyrs of Resistance congregation pay tributes to Qassem Soleimani, Abu Mahdi Mohandis and others whom US assassinated in illegal airstrikes in Baghdad.
Tens of thousands of people attended the event held under the aegis of Tehreek Baidari Ummat-e-Mustafa-PBUH (TBUM) today.
Specially, Allama Javad Naqvi-led TBUM showed their public support while marking unity of Pakistani nation. They all paid tributes to Martyrs of Islamic resistance.
Former Army Chief Mirza Aslam Beg
The event attracted former Army Chief General Mirza Aslam Beg (retd) as well.
Allama Amin Shaheedi of Ummat-e-Wahida Pakistan and Jamaat-e-Islami's Liaquat Baloch also participated.
Besides, many eminent figures were seen at Parade Ground in Islamabad.
Ex-COAS lauds Islamic bloc
Meanwhile, ex-chief of army staff also reiterated his support to Islamic reistance and Islamic bloc.
He recalled he had proposed union of Pakistan-Iran-Afghanistan in the past.
Now, he refreshed the proposal while proposing Turkey should also become part of that.
Warning to US and Israel
Mirza Aslam Beg said that he had warned the US and Israel of Iran's capabilities but they failed even after warning.