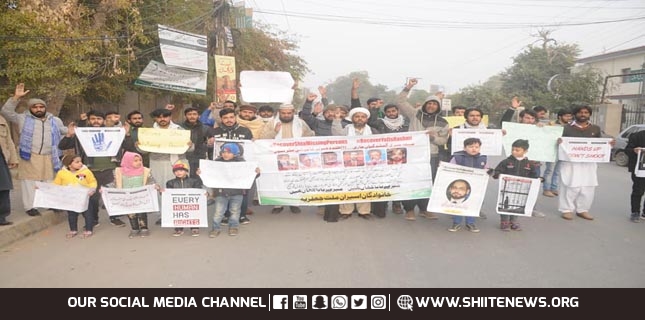 Families of Shia missing persons threaten self immolation in Multan.
They urged Foreign Minister Shah Mehmood Qureshi to ensure missing persons release forthwith.
However, they demanded immediate release of senior lawyer Syed Yafis Naveed Hashmi forthwith.
Families of Shia missing persons
They held a demonstration to protest against the enforced disappearance of their relatives.
Specially, the family of Yafis Naveed Hashmi advocate and his brother also participated in the protest.
Furthermore, Allama Iqtidar Hussain Naqvi of MWM, ISO Multan DP Shehryar and Allama Qazi Nadir Alvi spoke to the protesters.
Even the minor children of Shia missing persons had to come to protets to remind that the security agencies have entangled them in humanitarian crisis.
However, they have held protst demo outside the Multan house of FM Shah Mehmood Qureshi.
They had also been protesting outside Multan Press Club.
Missing persons remain a term for victims of enforced disappearance which security agencies imposed on suspicion.
But, it shocked and dismayed Shia community because they never took weapons against state while they never did anything against national security.
Despite their patriotism and huge services for Pakistan, pro-Saudi biased officials treated them as though they violated national security.
Ali Ausja Zaidi and many other innocent Shia youth and notables suffered due to that biased mindset.
Countrywide protest continues
Meanwhile, Joint Action Committee for Shia Missing Persons and the families jointly run protest camapign for release of such victims.
Another Karachi-based group Shia Missing Persons Movement also has held protest demos.
Its leader Rashid Rizvi said that Shia Muslims, including 22 from Karachi continue to suffer from unjustifiable enforced disappearance.