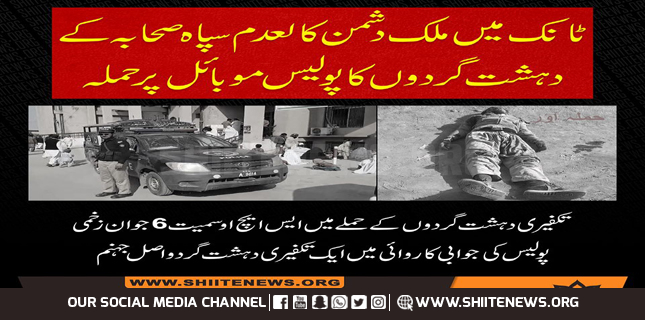 Two security officials martyred while six injured due to terror attacks in Tank.
Furthermore, officials said that the FC officials came under attack shortly prior to Friday prayers in the Manjhi bazaar area.
Two security officials martyred
The takfiri terrorists targeted Mohsin and Yasin while they were going from the Manjhi FC check-post to a mosque to offer prayers.
Resultantly, they died on the spot.
However, a terrorist detonated a hand-grenade due to which six policemen and a pedestrian suffered shrapnel injuries.
The personnel had asked the takfiri militant M Naseem, to surrender but he detonated the hand-grenade. Because of it, he died on the spot.
Besides, shrapnel hit six policemen, including SHO Inayatullah of Gomal police station, and a passer-by, leaving them injured.
The injured policemen included Havaldar Mohammad Shafiq, Kausar Khan, Umar Khitab, Amir Naveed and Said Rehman, while the passer-by identified as Habibullah.
The injured shifted to the district headquarters hospital in Tank. From there, one of the injured men referred to a hospital in Dera Ismail Khan because of his precarious condition.
Meanwhile, security forces cordoned off the area soon after the attacks and launched a search operation against the terrorists.
Particularly, al Qaida, Taliban and TTP, Sipah Sahaba (ASWJ), Lashkar Jhangvi, Daesh (ISIL), Jundullah, Jaishul Adl, etc.
However, they change their name at will. Specially, they call them Boko Haram in Nigeria, al Nusra or Ahrar al Shaam in Syria and Daesh in Syria and Iraq.
Similarly, their like-minded Pakistani groups such as ASWJ or Lashkar Jhangvi also work as their franchise with similar agenda.