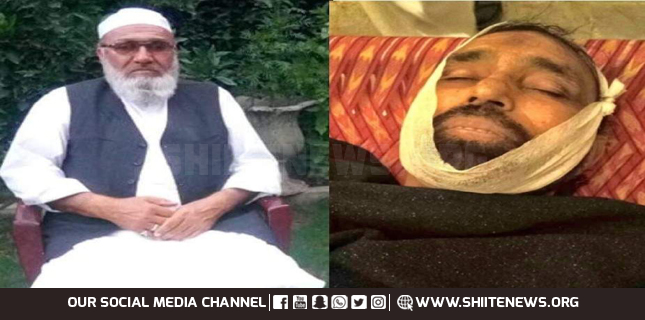 Tehreek Hussaini and MWM demand arrest of killers of Afgar Bukhari, renowned Shia poet of Pashto language.
Allama Syed Yousuf Hussain Jafari of Tehreek-e-Hussaini and Allama Waheed Kazmi of MWM condemned the targeted murder of Shia poet.
Tehreek Hussaini and MWM
Allama Kazmi announced support for Lakki Marwat protesters demand for arrest of killers.
Furthermore, he warned the KP government of province-wide prorest movement if the latter fail to meet demand.
However, Allama Jafari slammed the Khyber Pakhtunkhwa government for its failure to address Shia grievances.
Backgrounder
Renowned Shia poet Afgar Bukhari martyred in Lakki Marwat, Khyber Pakhtunkhwa on Wednesday night.
Syed Zahoor Abbas Shah Afgar Bukhari embraced martyrdom after Isha prayers.
Afgar Bukhari was a renowned poet of the Pashto language and known for his romantic poetry across Khyber Pakhtunkhwa.
But, local Shia community also revere him as a religious leader because of scholarly role.
Although takfiri terrorist target Shia Muslims across Pakistan at will, authorities concerned generally hide identity of the killers.
Shia poet Afgar Bukhari martyred
According to an official, an unknown man entered the hujra of Syed Zahoor Abbas Shah Afgar Bukhari in Mohallah Sayyedan. He opened fire on him.
Resultantly, Zahoor Shah Afgar Bukhari embraced martyrdom on the spot.
However, the assassination news of the Shia leader's murder spread like wildfire.
A large number of his followers and local people reached the Government City Hospital where his body was brought for autopsy.
Shia Muslims protest
Soon after the incident, police rushed to the area and collected evidence from the crime scene.
Meanwhile, relatives and followers of Afgar Bukhari held a demonstration at Qazi Ishfaq Chowk on Bannu-Mianwali road. They protested against the murder.
Furthermore, they praised the martyr as a peace-loving man and a symbol of religious harmony in the district.
While condemning the targeted murder, they demanded arrest of the killer.
Deputy Commissioner Jahangir Azam Wazir and the district police officer held talks with the protesters. They assured them that the killer of Afgar Bukhari would be arrested soon.
Moreover, they asked the Shia community leaders to cooperate with police and foil malicious designs of anti-peace elements.