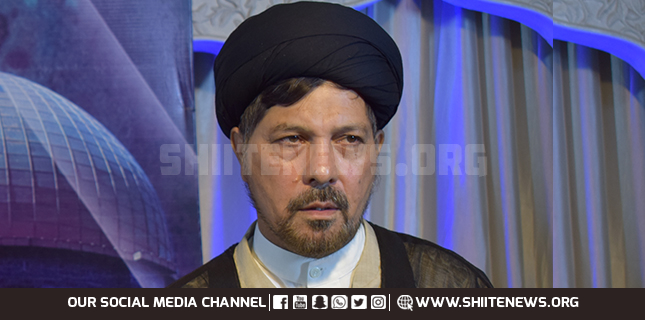 Allama Baqir condemns enforced disappearance and 4th schedule policy against innocent Shia Muslims. MWM Sindh secretary general demanded end to this biased and unfair policy.
Allama Baqir condemns enforced disappearance
Majlis-e-Wahdat-e-Muslimeen leader vowed that they would not sit comofrtably until release of last missing person.
Furthermore, he said that patriot and law-abiding Shia Muslims would not tolerate this unjust and biased policy.
He demanded the government to exclude Shia notables names from the fourth schedule of ATA.
Moreover, he demanded end to enforced disappearance of all Shia notables.
Meanwhile, Joint Action Committee for Missing Shias continue to run its campaign across Pakistan.
Joint Action Committee vows protest
Notably, their protest movement continues across Pakistan. And they have made clear to  the power that be that Shia Muslims would not tolerate violation of their fundamental human rights.
Countrywide protest conitnues
Most importantly,  countrywide protest against enforced disappearance of Shia Muslims go unabated.
Those who spoke at events included: MWM leader Nasir Shirazi, ISO CP Qasim Shamsi, senior clerics Allama Shabbir Bukhari, Allama Hasnain Gardezi.
Furthermore, Allama Haider Abbas, Allama Iqtidar Naqvi, Allama Nadir Abbas Alvi and Allama Tahir Abbas Naqvi also spoke.
Moreover, they said that they would stage sit-in outside house of Foreign Minister Shah Mehmood Qureshi on Sunday.
Unfortunately, the authorities subjected Shia Muslims to enforced disappearance without any charge and without right to fair trial.