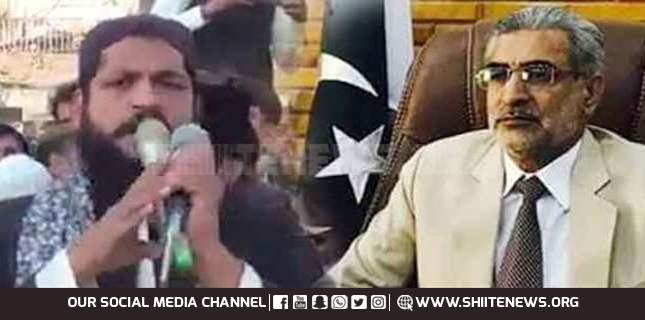 Banned terror outfit ringleader campaigns against Shia vice chancellor as government fails to punish him for hate speech in Charsadda.
Shia vice chancellor
A video has gone viral on social media. It shows banned terror outfit Sipah Sahaba (ASWJ) threatening the government to remove Shia vice chancellor Saqlain Naqvi.
Mr. Naqvi is serving as VC at Bacha Khan University Charsadda in Khyber Pakhtunkhwa province.
Unfortunately, hate-speech against a Shia educationist has gone unnoticed.
Inaction aginst hate speech
Meanwhile, Pakistani nation has expressed dismay over inaction against the fanatic of banned terror outfit.
Factually, Pakistanis revere the Shia Muslim Mohammad Ali Jinnah as father of Pakistani nation and fonder of Pakistan.
Banned terror outfit unreined
However, pro-Saudi takfiri outfit ASWJ (Sipah-e-Sahaba) has remained engaged in declaring Shia Muslims as heathens.
Now, Bacha Khan University's Shia VC has fallen victim to ASWJ's malicious propaganda.
Interestingly, state of Pakistan had already banned Sipah Sahaba (ASWJ) and its subsidiary Lashkar-e-Jhangvi. But, they continued their activities.
National Action Plan (NAP)
Following the APS schoolchildren massacre in Dec 2014, government had introduced NAP. But, that also turned into national inaction plan.
Moreover, nobody cared to eliminate takfiri terrorists. Therefore, peace-loving Pakistani nation blames power that be for support to takfiris against Jinnah.
Ironically, Pakistan remains the only Muslim nation-state on earth that has accorded official protocol to those declared its Shia founder as heathen.
Shia vice chancellor
And now Shia Muslim vice chacellor has faced the takfiris hatemongering speech.