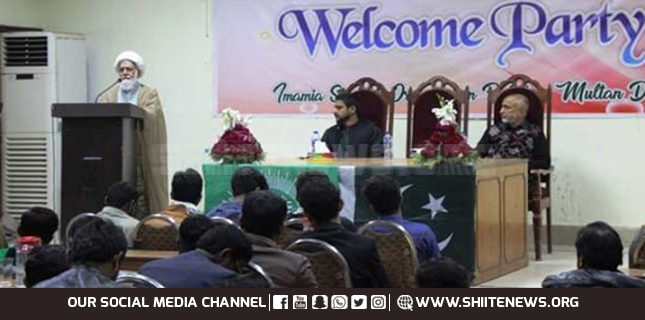 ISO Multan hosts reception in honour of new students who have got admission at various alma maters in Multan.
ISO Multan hosts reception
Besides a large of number of newly admitted students, many teachers and ISO seniors also attended.
Shia Islamic scholar Allama Hassan Baqeri and others spoke on the occasion. Particularly, they expressed concern over promotion of alien culture in alma maters.
Specially, they emphasised the need to promote Islamic teachings and culture. They cited that Imamia Students Organisation (ISO) has become a platform for promotion of piety and pious environment.
Those others who spoke included: DP Atif Hussain, CCS Zahid Mehdi, Waqar Haider, Farrukh Mehdi, Dr Moosa, Professor Ammar and Engineer Nasir Mehdi.
Meanwhile, students from BZU, Nishtar Medical University, IET, GCU, Agricultural University, MNS University and Emerson College also attended reception.