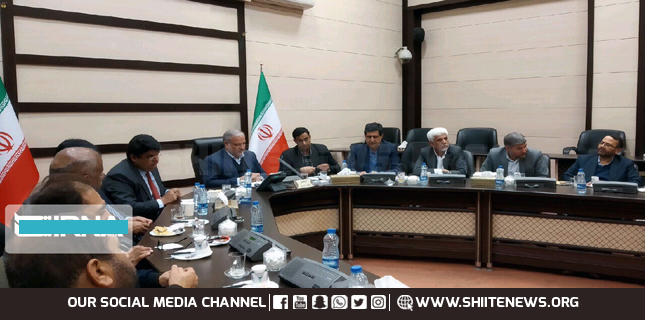 Pakistani officials visit Iranian Sistan Balouchestan province where governor general Ahmad Ali Mohebati welcomed them in Zahedan.
Pakistani officials visit Iranian
While meeting visiting Paksitani delegation, provincial governor general highlighted commonalities between Pakistan and Iran.
Pakistan Iran commonalities
Specially, he referred to cultural and religious commonalities. He further said that it indicates solidarity and affection between the two neighboring states.
Mohebati emphasised that boosting bilateral relations would pave the way for development of the two neighbouring provinces of neighbouring countries.
Iranian nation respects Jinnah and Iqbal
Moreover, he told Pakistani officials that Iranian people respect individuals such as Allama Iqbal and Mohammad Ali Jinnah and other Pakistani figures.
Similarly, he pointed to the fact that Pakistanis respect late founder of the Islamic Revolution Imam Khomeini and incumbent Supreme Leader Ayatollah Seyyed Ali Khamenei.
Gwadar and Makran
The Sistan Balouchestan governor general noted the latent but significant capacities in Gwadar and Makran ports. He said that could benefit both for the two nations and the entire world.
Furthermore, he said investment in them as complementary to each other can benefit both Iran and Pakistan.
However, he also referred to external powers who do not want Islamic states such as Iran and Pakistan make progress. Hence such alien powers are trying to create discord and insecurity, Mohebati said.
Enhanced Pak Iran relations
Meanwhile, one may note expanding bilateral ties of Pakistan and Iran with surge in exchange of visits.
Specially, military-to-military relations also note improvement.
Particularly, Pakistan Army Chief General Qamar Javed Bajwa has visited Iran thrice. Once he remained part of Prime Minister Imran Khan-led highest level Pakistani delegation.
However, his two visits to Iran as the COAS and meetings also with Pasdaran (IRGC) commander conveyed a good message to Iran.
Therefore, analysts note that Pakistani civilian and military leadership signals sincere and friendly intentions to Iran.
Also read:
Pakistan Iran military relations improvement will benefit both