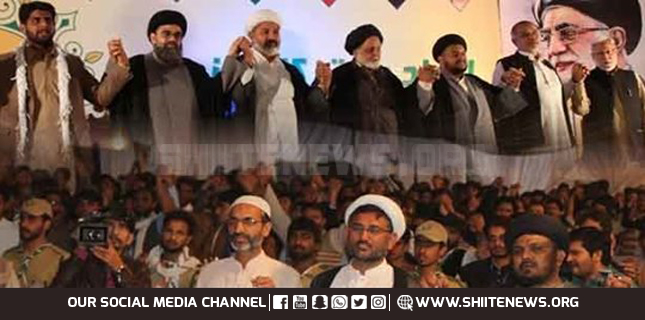 Shia Islamic scholars and notables call for unity of the community. They laid emphasis on unity while addressing Ittehad-e-Millat Conference in Lahore.
The unity conference held under the aegis of Imamia Students Organisation at its annual convention where many notables spoke.
Shia Islamic scholars and notables
Specially, former central president Dr Saqib Akbar proposed formation of a committee to work in that direction.
Outgoing CP Qasim Shamsi addressed those who revere Allama Arif Hussaini and Dr Mohammad Ali as compass for right direction. He urged them to play their active role for unity.
Furthermore, he emphasised unity of followers of Wilayat to sort out the community's problems.
Allama Ahmed Iqbal
The MWM leader Allama Ahmed Iqbal Rizvi lauded efforts of ISO for unity.
He proposed meeting of all Shia leaders to discuss ways and means to rid the community of grievances.
Allama Nazir
Moreover, Shia Ulema Council leader Allama Nazir Taqvi pointed to negative propaganda on social media. He said that this must end.
MWM, SUC and IO
Meanwhile, Imamia Organisation's Sajjad Naqvi, MWM's Abdul Khaliq Asadi and SUC's Hafiz Kazim Raza Naqvi also spoke.
Particularly, they referred to infallible leaders of Islam their role model for unity of Shia Muslims and humanity.
Besides, they noted unity a must for Shias to contribute in progress of Pakistan.