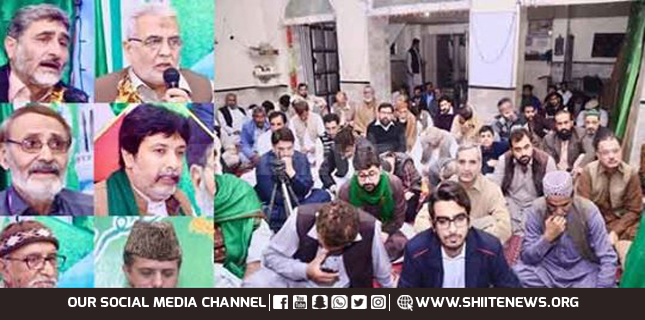 Shia Muslims celebrate Eid Miladul Nabi (PBUH) in Peshawar under the aegis of Shia Ulema Council.
Shia Muslims celebrate Eid Milad
The SUC District Peshawar chapter organized annual celebrations Jashan-e-Sadiqain at Imamia Masjid Ganj.
However, it also marked Sunni-Shia Islamic unity. Naat khwan and manqabat khwan recited naat and manqabat.
Furthermore, they paid tributes to Hazrat Mohammad (BUH) and Imam Jafar Sadiq (AS) on their birth anniversaries.
Shia notables largely participate
Notably, Shia Islamic religious scholars, speakers and poets also attended the celebrations.
Akhunzada Zahid Ali Askar compèred. Akhunzada Mujahid Ali Akbar Rouza Khwan presided over the event.
Moreover, Allama Irshad Khalili, Zulfiqar Hussain Hyderi, Azhar Shah Kazmi, Abrar Shah Jafari, Tahir Abbas Bukhari and Karbalai Amjad Ali Mir attended as special guests.
Specially, they highlighted various aspects of the sacred lives of Hazrat Mohammad, Prophet of Islam and Humanity and last apostle of God. They also spoke on the holy life of Imam Jafar Sadiq (AS).
Shia Muslim observe Muslim Unity week to mark Eid Miladul Nabi celebrations every year.
Eid Miladul Nabi
Factually, Sunni Bralevis of Pakistan celebrate the anniversary on 12th Rabiul Awwal while Shias mark celebrations on 17th.
12th Rabilul Awwal
Notably, Muslims offer special prayers for upholding and flourishing of Islam. They pray for unity, solidarity, progress and welfare of the Muslim ummah after Fajr prayers.
Shia Muslims observe Islamic unity week under weeklong Eid Miladul Nabi celebrations from 12th to 17th Rabiul Awwal.
Imam Jafar Sadiq birth anniversary
However, Shia Muslims also observe birth anniversary of Imam Jafar Jafar Sadiq (AS) on 17th Rabiul Awwal.
Due to that reason they call it Sadiqain celebrations.