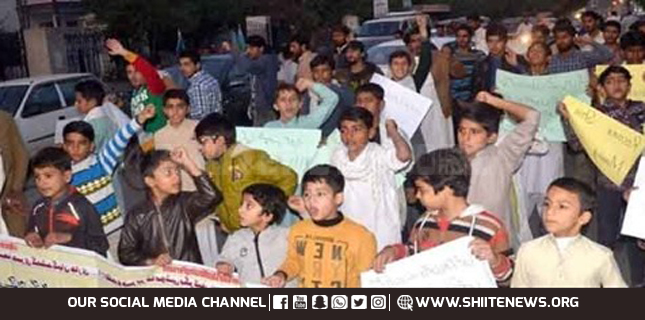 Shia missing persons families hold protest demonstraion in Multan where they have held rallies several times.
Shia missing persons families
Members of the affeted families and particularly the children and youths participated in the demo house Multan Press Club.
Hundreds of thousands of Shia Muslims have expressed their support to the affected families at demos across the country, many a times.
Furthermore, ISO Multan president Atif Hussain, Dr Abbas, Hamid Hussain, Waqas Haider, Mehboob Hussain and Abdul Wahab led protest.
However, protest held under the aegis of Join Action Committee for Shia Missing Persons.
Peaceful protesters demand
Most importantly, the protesters cited article 10 of the Constitution of Pakistan in favour of their demand.
They repeated demand that either security agencies end enforced disappearance forthwith. Or produce the undeclared Shia detainees in the court of law for fair trial.
Otherwise, they vowed that they would not remain silent against this intolerable injustice.
Families call it economic genocide
On the occasion, the affected families called enforced disappearance tantamount to their economic genocide.
Particularly, they noted the worst economic problems deprive them of good life. They asked how could they send their children to schools and how they would make both ends meet.
The affected families said that the authorities have made them Kashmiris in Pakistan through undeclared detention of innocent Pakistanis.
Joint Action Committee for Shia Missing Persons
Their protest movement continues across Pakistan under the aegis of Joint Action Committee for Shia Missing Persons.
And they have made clear to  the power that be that Shia Muslims would not tolerate violation of their fundamental human rights.
Countrywide protest conitnues
Most importantly, countrywide protest against enforced disappearance of Shia Muslims go unabated.
Those who spoke there included: MWM leader Nasir Shirazi, ISO CP Qasim Shamsi, senior clerics Allama Shabbir Bukhari, Allama Hasnain Gardezi.
Furthermore, Allama Haider Abbas, Allama Iqtidar Naqvi, Allama Nadir Abbas Alvi and Allama Tahir Abbas Naqvi also spoke.
Moreover, they said that they would stage sit-in outside house of Foreign Minister Shah Mehmood Qureshi on Sunday.
Unfortunately, the authorities subjected Shia Muslims to enforced disappearance without any charge and without right to fair trial.