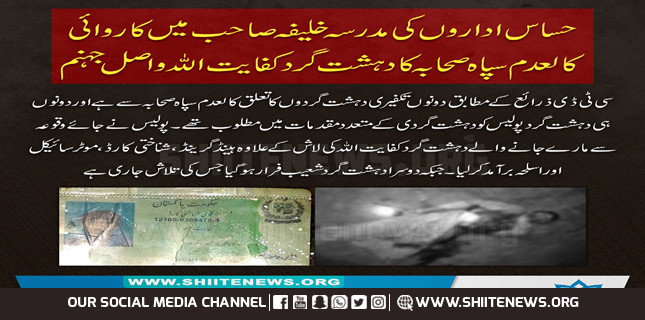 Sipah Sahaba terrorist killed in DI Khan encounter with CTD. The gunfight began due to raid CTD raid on khalifa Sahib seminary.
Sipah Sahaba terrorist killed
The CTD cops were conductin a search operation at Khalifa Sahib seminary on Nahar Road in Zafar Colony in Dera Ismail Khan.
During that, they noticed two persons riding a motorcycle were leaving the scene.
While suspecting their activity, CTD cops chased them. Due to that, terrorists opened fire to forced CTD to refrain from chasing.
However, exchange of fire left Kifayatullah dead on the spot while other terrorist Shoaib managed to flee.
Wanted terrorists
Meanwhile, CounterTerrorism Derpartment (CTD) of Khyber Pakhtunkhwa police also seized hand grenades from the scene.
They also took into possession his CNIC, motorcycle and a pistol.
Dera Ismail Khan remains on hit list
Although the takfiri terrorists have put entire country on their hit list, they have remained very much active in DI Khan.
Particularly, they have been killing Sunni and Shia Muslims due to their hatred for both sects although takfiris impersonate them as Sunnis.
Backgrounder
Takfiri terrorism
Notably, Daesh or TTP originated from Lashkar-e-Jhangvi and its mother wing Sipah Sahaba (ASWJ) who remain mother of all terrorism in Pakistan.
These terror outfits have remained affiliated with al-Qaeda, Taliban and Daseh. And chroniclers may call them franchise of that global terrorism in Pakistan. Also, their fanatics joined al-Qaeda, TTP and Daesh Pakistan chapter.
Besides, they have perpetrated heinous crimes against humanit across Pakistan.
Amazingly, Pakistan government has banned these outfits on one hand, and give official protocol to their ringleaders on the other.
Therefore, this hypocrisy has disappointed peace-loving Pakistanis.