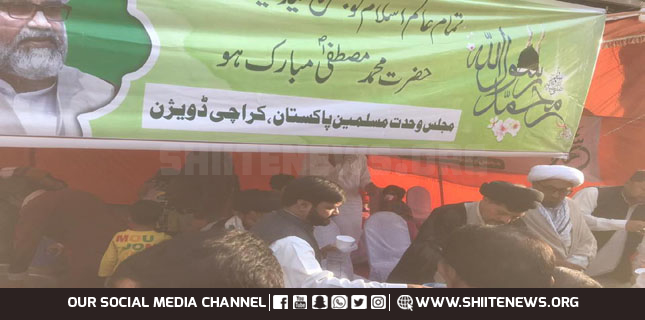 MWM continues to celebrate Eid Miladul Nabi (PBUH) or birth anniversary of Prophet Mohammad (PBUH).
Majlis-e-Wahdat-e-Muslimeen began weeklong celebrations on a call from its secretary general Allama Raja Nasir Abbas Jafari.
The latter directed to observe Muslim Unity Week from 12th to 17th Rabiul Awwal.
While addressing a press conference, here on Tuesday, MWM Sindh chapter secretary general Allama Baqir Zaidi spoke on these events and other issues.
Allama Sadiq Jafari, Allama Mubashir, Allama Ali Anwar Jafari and Yaqub Hussaini also accompanied him.
MWM Eid Miladul Nabi
Allama Baqir said that supporters are largely participating in Eid Miladul Nabi celebration during Muslim Unity Week.
He said that MWM is organizing congregations, vigil and other events to mark celebrations.
Allama Baqir highlighted Sunni-Shia unity and brotherhood at these events being under weeklong celebrations.
However, he also expressed dismay over Sindh government and police's anti azadari role during Moharram and Safar.
Particularly, MWM leaders cited registration of uncalled for FIRs against azadari in parts of Sindh.
They demanded Sindh government must complete development work at Numaish Chowrangi and MA Jinnah Road for restoration of original route of processions.
Meanwhile, they also condemned blasphemy and sacrilegious hate materials against Ahle Bayt and particularly against Imam Mehdi.
MWM leaders noted that all Muslims revere and adore Imam Mehdi and other member of Ahle Bayt. But, some miscreants were trying to incite Muslims through blasphemy.
The condemned Abdul Sattar Jamali for such blasphemy and demanded capital punishment be awarded to him.
Majlis-e-Wahdat-e-Muslimeen would observe protest day on Friday against said blasphemy.