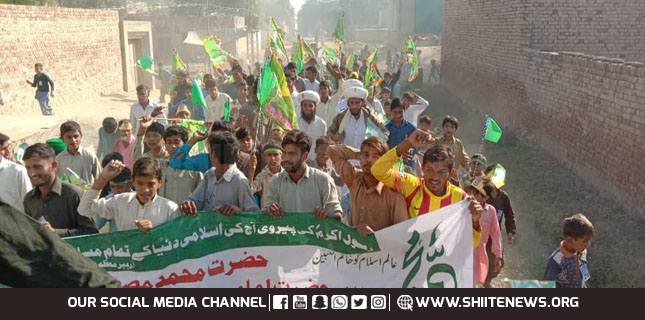 SUC leader lauds Shia Muslims role on Eid Miladul Nabi. Almost all known Shia parties joined celebrations although Shia Muslims celebrate Eid Miladul Nabi on 17th Rabiul Awwal.
SUC leader lauds Shia Muslims role
Shia Ulema Council leader Allama Syed Sibtain Sabzwari praised Shia Muslims active role in 12th Rabiul Awwal Milad celebrations.
Particularly, he emphasised that mourning over Imam Hussain martyrdom and Eid Miladul Nabi celebrations must remain symbol of intra-Muslim unity.
However, he also declared that those are enemies of Muslims who divide them on such occasions.
Furthermore, Allama Sibtain referred that Imam Khomeini had called for observance of Muslim Unity Week due to that reason.
Meanwhile, SUC head Allama Sajid Naqvi also had issued statement on 12th Rabiul Awwal celebrations.
Shia-Sunni unity on Eid Miladul Nabi
ISO set up reception camps
Imamia Students Organisation also set up reception camps from where they accorded warm welcome to Eid Milad rallies. They served the jubilant participants of such rallies with food and drinks.
Meanwhile, MWM also set up such reception camps across Pakistan.
MWM leaders also attend Milad rallies
Majlis-e-Wahdat-e-Muslimeen leaders visited reception camps on 12th Rabiul Awwal.
Moreover, MWM leaders and supporters also attend many rallies held to celebrate birth anniversary of Hazrat Mohammad (PBUH).
However, at the MWM reception camps, they accorded warm welcome to the participants of such rallies.
MWM Muslim Unity week
Shia parties observes Hafta Wahdat-e-Muslimeen or Muslim Unity Week from 12th to 17th Rabiul Awwal.
That aims to strengthen intra-Muslim and inter-sectarian unity and brotherhood on occasion of symbols of unity.
Because both Sunni and Shia Muslims revere and adore Hazrat Mohammad (PBUH), the last apostle of God and Imam Jafar Sadiq as symbols of unity.
Eid Miladul Nabi
Shias join Sunnis in Eid Miladul Nabi
Factually, Sunni Bralevis of Pakistan celebrate the anniversary on 12th Rabiul Awwal while Shias mark celebrations on 17th.
12th Rabilul Awwal
Notably, Muslim offer special prayers for upholding and flourishing of Islam. They pray for unity, solidarity, progress and welfare of the Muslim ummah after Fajr prayers.
observe Islamic unity week under weeklong Eid Miladul Nabi celebrations.
Imam Jafar Sadiq birth anniversary
However, Shia Muslims also observe birth anniversary of Imam Jafar Jafar Sadiq (AS) on 17th Rabiul Awwal.
JDC also celebrated Eid Miladul Nabi
JDC Pakistan celebrates Eid Miladul Nabi with huge participation near the mausoleum of founder of Pakistan.
Largely attended vigil, naat and speechees marked Eid Miladul Nabi (PBUH) celebrations at Bretto Road Numaish Chowrani.
Muslim unity
However, the event also featured intra-Muslim or inter-sectarian unity because Sunni Bralevi, Deobandi, Shia Muslims and Ahle Hadees participated.
Moreover, prominent Shia Islamic scholar Allama Syed Raza Ali Rizvi and senior Deobandi cleric Mufti Naeem hugged each other.
Jafaria Disaster Management Cell or JDC
The JDC is actively working to serve the humanity without any bias and discrimination. Particularly, it remains a much popular NGO in Karachi.
Its ambulance service and free food for public at the JDC Dastar Khwan remain some visible examples of its services.