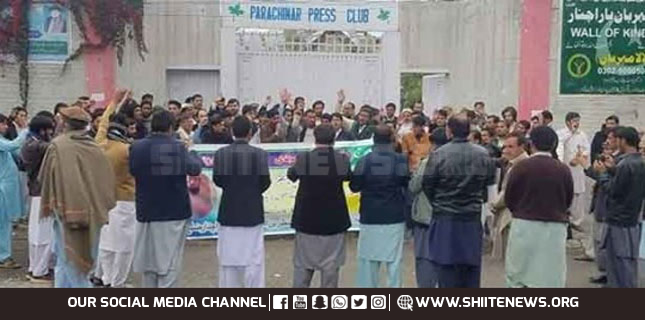 Parachinar protesters demand hanging of blasphemer Jamali as they held a demonstration.
Notably, supporters of social, political and religious parties participated in the protest demo at Parachinar Press Club.
Parachinar protesters demand hanging
Moreover, they declared blasphemer Abdul Sattar Jamali an agent of India. Furthermore, they demanded hanging of the blasphemer.
Meanwhile, Mahir Hussain, Mohammad Habib, Allama Muzzammil, Sir Zahid, Syed Mufeed, Syed Zahir and Mazhar Ali also spoke.
Jamali released a video. Therein, he is using highly indecent, impolite, derogatory slurring remarks against Imam Mehdi.
And he is also inciting other Deobandis to follow his takfiri ideology against Imam Mehdi.
Jamali belongs to Phulji (Johi taluka) district Dadu. He remains affiliated with a deobandi seminary.
Blasphemer in jail custody
The concerned police informed them court in Dadu of arrest of Mulla Abul Sattar Jamali.
However, court sent him to jail custody for two weeks.
However, now protesters demand capital punishment to him.
The MWM, ISO, Asgharia, SUC, Raheem Jafari led azadari organisation held these protest.
Reaction to blasphemy
Hang blasphemer Sattar Jamali
Notably, the demand to hang the blasphemer became to twitter trend. #Hangsattarjamali remained the most popular trending in Pakistan.
Particularly, Pakistan-based twitter account holders responded more actively. They supported the demand.
Shia Muslims held demonstrations in Sobho Dero and Jacobabad. MWM had organised protest demos.
Moreover, Allama Maqsood Domki of MWM talked to SSP Dadu Farrukh Raza. In his telephonic conversation, he demanded stern action against the blasphemer forthwith.
Imam Mehdi
However, Imam Mehdi remains a source of unity of humanity, let alone Muslims.
Though Shia Muslims revere him as their 12th infallible Imam who remains in occulation yet Sunni Muslims too believe in Imam Mehdi.
As per Islamic ideology, Imam Mehdi is that saviour or Messiah who will liberate the suffered humanity from oppression. Hence, he remains symbol of unity among many nations with identical apocalyptic ideology.
Blasphemy in Pakistan
Although takfiri Deobandis call out all non-takfiri Muslims for alleged blasphemy, yet they themselves perpetrate blasphemy.
For that, one may read this article. It is just an example.
Blasphemy against Bibi Fatima Zahra by followers of Umayyad tyrants