Pakistan
MWM and allied Sunni parties stage sit-in in solidarity with Revolution March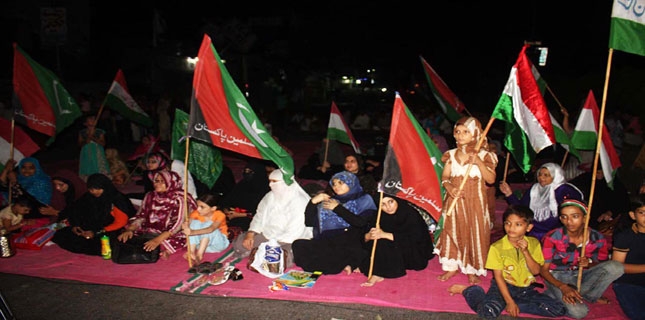 Supporters of Majlis-e-Wahdat-e-Muslimeen and allied Sunni parties staged a sit-in at main Numaish Chowrangi on Friday to express their solidarity with the legitimate demands of the Revolution March that has camped outside Parliament House.  
Like previous sit-in, supporters of the MWM, PMLQ, Sunni Ittehad Council and Sunni Tehrik attended the sit-in and demanded the PMLN government to meet the legitimate demands of the Revolution March.
The supporters were raising slogans of Labbaik Ya Hussain (AS) and vowed to strengthen Shia-Sunni unity and always support Sunni-Shia alliance in Pakistani politics. They vented their anger against the PMLN government for its inaction against the Yazidi takfiri nasbi terrorists of outlawed Sipah-e-Sahaba and its allied terrorist outfits.
Allama Aijaz Behishti, central leader of the MWM, his comrades Ali Hussain Naqvi and Maulana Ali Anwar Jafari,  PMLQ's Naeem Adil Shaikh, Pakistan Awami Tehrik's al Haj Iqbal Mehmood and Mehmood Memon, Sahibzada Azhar Raza of Sunni Ittehad Council, and Matloob Awan of Sunni Tehrik expressed support for the MWM's sit-in protest.
They said that had the PMLN government ordered Operation Zarb-e-Azb soon after coming to power, notorious Yazidi takfiri Taliban terrorists would not have been able to massacre Pakistani civilians and security officials and nation would have averted those terrorist attacks.
They urged the government of the PMLN to step down. They asked the rulers to quit because they are involved in Model Town massacre and they should face trial for their crime. They said that all the demands of the Inqilab March were legitimate and nothing illegal was desired by the leadership of Inqilab March.  
They said that Awami Parliament of Inqilab March was legitimate and representative of nation. They also criticized those parliamentarians such as Mehmood Achakzai and Aftab Sherpao saying that Mr. Achakzai was a hardline opponent of Nawaz Sharif and Shahbaz Sharif and he always criticized them when his party was part of PONM. They said that Mr. Sherpao became ally of Pervez Musharraf who had sacked Nawaz Sharif government through a military coup. Hence, they asked them to clarify their position on their opposition to Sharif Brothers in recent past. They asked had Nawaz not been an elected Prime Minister since 1997 to 12th of October, 1999. Then, whey Sherpao and Achakzai resorted to agitation against PMLN government, asked the MWM and allied parties' officials.