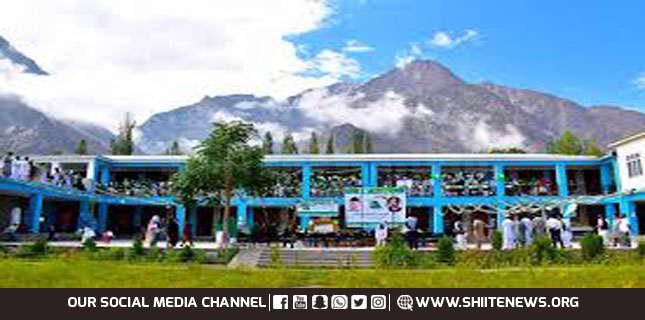 Plot against Youme Hussain in Baltistan University Skardu unveiled.
Plot against Youme Hussain
Unfortunately, Baltistan University Skardu has declared closed holidays to prevent students from organizing Youme Hussain.
Particularly, students believe it a conspiracy because the University administration has called in police at their alma mater.
University admin shock students
Surprisingly, the university administration had given permission for Youme Hussain in the premises of the university.
However, it seems they changed their mind overnight and declared holiday deploying police.
That shocked students who asked why they did give permission to them and then closed their alma mater and posted police there.
Youme Hussain remains symbol of unity
Gilgit witnessed Muslims unity
Earlier this month, Dadi Javadi Park Gilgit saw huge participation at the annual event held in commemoration of Imam Hussain (AS).
Moti Mahal Masjid Imam Khaleel Qasmi, Ismaili Reginal Council's Al Waiz Fida Ali, Awami Action Committee chairman Sultan Raees spoke.
Others speakers included: Mushtaq Ahmed of Jamaat-e-Islami GB chapter, ex-caretaker minister Inayatullah Shimali and Imamia Council Gilgit's Wazir Muzaffar Ali.
Furthermore, Allama Ashiq Hussaini, Allama Nayyar Abbas Mustafavi and Abdul Shakoor also spoke.
They paid homage to Imam Hussain.
Particularly, they all urged humanity to follow Imam Hussain-led Martyrs of Karbala to rid them of oppression and tyranny.
Meanwhile, Allama Rahat Hussaini lauded Anjuman Imamia, Imamia Scouts and Gilgit administration for a successful event.
Backgrounder
Takfiri threatens Islamic Unity
Unfortunately, Gilgit-Baltistan province has suffered much due to takfiri mindset in the past.
Specially, Daesh-allied takfiri nasbi terrorists of notorious outlawed Sipah-e-Sahaba (ASWJ or Lashkar-e-Jhangvi) and biased police cops joined hands. They had sabotaged Youm-e-Hussain (AS) in a college in Gilgit-Baltistan province in 2014.
The DAESH-allied ASWJ/LeJ fanatics stormed into Jatial College in Gilgit where Jafaria Students Organisation (JSO) was holding Youm-e-Hussain.
Furthernore, ASWJ held the College hostage on gunpoint and began raising slogans against Shia Muslims.
Instead of taking due action against the takfiris of outlawed ASWJ, police began firing to force the participants of the Youm-e-Hussain (AS) to leave the College.
Moreover, biased police had harassed law-abiding and peaceful Shia students.
Due to that, Shia parties and leaders condemned the targeted attack and police inaction against the takfiri fanatics.
Meanwhile, they had suggested that police should have adopted measures to prevent takfiris.