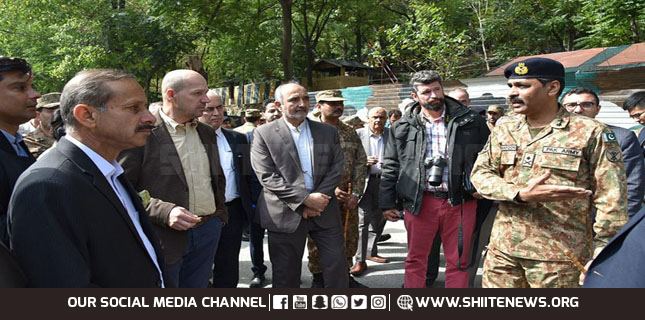 Foreign diplomats in Neelum Valley see Indian lies because no terror launch pads existed there.
The spokesperson of Foreign Office Dr Mohammad Faisal tweeted the visit news on Tuesday.
Foreign diplomats in Neelum
A team of foreign diplomats posted in Pakistan witnessed firsthand whether the Indian army had smashed four terror launch pads there or not.
However, Indian side not joined in the visit to LoC. Neither have they provided coordinates of the alleged launchpads.
Pakistan government arranged diplomats visits to the Nauseri, Shahkot and Jura sectors near the Line of Control (LoC). They also ensured their visit to the Nausada village, which has suffered severe damage in attacks by Indian troops.
The trip was arranged so they can verify for themselves the claims made by Indian army chief Gen Bipin Rawat.
Meanwhile, Inter-Services Public Relations Director General Maj Gen Asif Ghafoor briefed the diplomats and media persons about the situation in the area.
The visitors also saw remains of the artillery shells that Indian troops allegedly fired from across the LoC.
Furthermore, DG ISPR said that in 2018, India did 3,038 ceasefire violations. India killed 58 civilians while injuring 319.
In 2019, so far India has done 2,608 ceasefire violations. Due to that, 44 civilians martyred and 230 injured.
He said the difference between the Pakistan Army and Indian army had it that Pakistan follows military norms. He said Pakistan and only targets Indian posts.
Moreover, DG ISPR added that the foreign diplomats had visited Jura bazaar and met the local population and shop owners.
There they witnessed firsthand the damage inflicted on the shops and houses that India claimed as launchpads
"It's all innocent people being targeted by India," he said.
No official from the Indian High Commission joined the team visiting the LoC.