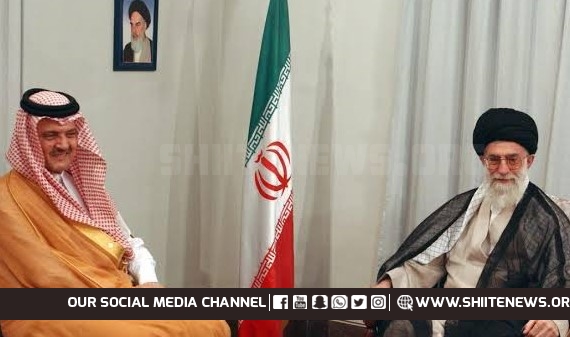 Saudi and Iranian leaders willing to talk due to Pakistan's efforts, Foreign Minister Shah Mehmood Qureshi implied this.
Saudi and Iranian leaders
According to him, Saudi and Iranian leaderships indicated willingness to talk after meeting with Pakistan Prime Minister Imran Khan.
Shah Mahmood Qureshi said Wednesday but he revealed no additional details.
Imran Khan has travelled to Saudi Arabia on Tuesday and Iran on Sunday.
Khan's mediation efforts come after Washington blamed the Sept. 14 attack on Saudi oil fields on Iran, a charge which Tehran denies. The attack halved the kingdom's oil production.
Since then, Khan has attempted to play the role of facilitator to arrange talks between Riyadh and Tehran.
Bacgrounder
Imran Khan Saudi-Iran peace mission
Prime Minister of Pakistan meets Saudi King Salman on regional peace as the former visited Riyadh Tuesday.
Although Prime Minister has been saying that he wants end to Saudi-Iran tension yet Radio Pakistan report had no mention of Iran.
Prime Minister of Pakistan
Till late on Tuesday night, Radio Pakistan report had nothing what PM Khan transpired on Iran related efforts.
It simply reported that Prime Minister Imran Khan held a meeting with Saudi King Salman bin Abdul Aziz.
They discussed bilateral relations, regional peace and stability as well as current world situation.
Prime Minister also apprised him about the latest situation in occupied Kashmir.
PM, Saudi King discuss bilateral relations and regional peace
Imran Khan has visited Tehran on Sunday where he held meetings with Iranian leadership.
Pakistan thanks Ayatollah Khamenei
"People of Pakistan deeply value the personal commitment of the Supreme Leader to the cause of Kashmir," he said.
Furthermore, Prime Minister also expressed gratitude over Iran's support on the Kashmir issue.
Meanwhile, overall exchange of views remained constructive and encouraging. Because, both sides agreed to stay engaged and consult closely to take the process forward.
Iran also lauds Pakistan
Iranian side appreciated Pakistan's sincere efforts for the preservation of peace and security in the region. Radio Pakistan reported it.
Read More: Iran welcomes Pakistan efforts for Saudi Iran talks as Foreign Minister Javad Zarif said this in in an interview.
Furthermore, it reported that Prime Minister reaffirmed his resolve to comprehensively upgrade Pakistan- Iran relations.
Moreover, PM Khan apprised the Supreme Leader Ayatollah Khamenei of his initiative for regional peace and security.
Notably, he underlined that the current situation in the Gulf requires avoidance of military conflict. He further said that it also requires constructive engagement of all parties of the region.
Talking to Iranian President Hassan Rouhani and other Iranian leadership in Tehran, he conveyed Pakistan's readiness in this regard.
Pakistan remains ready to extend full facilitation of efforts for de-escalation of tensions and resolution of differences and disputes through political and diplomatic means.
Particularly, Imran Khan visited Tehran as part of his initiative to promote peace and security in the Gulf.
During his meeting with President Hassan Rouhani, the Prime Minister reiterated his commitment to further strengthen bilateral relations in diverse areas.
Specially,  with a particular focus on enhanced trade and economic cooperation. He said that close cooperative ties with Iran have always been a priority for Pakistan.