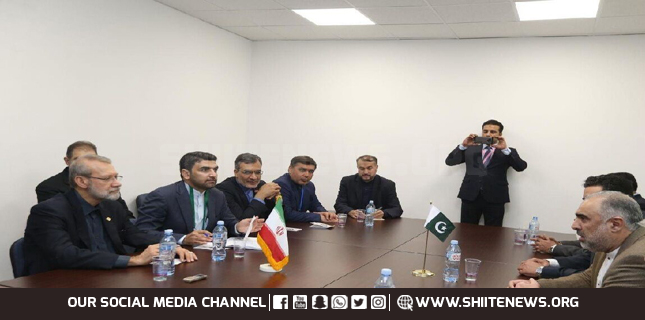 Pakistan and Iran speakers meet in Belgrade on IPU sidelines where both discussed bilateral ties.
Specially, their delegation level talks also discussed bilateral trade relations.
Pakistan and Iran speakers
Furthermore, they agreed that Pakistan and Iran need to exploit their full potentials in trade.
Iran's parliament speaker said that Tehran and Islamabad need to use their potentials to develop their bilateral ties.
He referred to little commerce between Iran and Pakistan. Therefore, he suggested paving way for both countries use their full potentials.
However, Speaker Asad Qaiser assured that he would raise the issue with the commerce minister.
Moreover, he suggested that Larijani's visit to Pakistan would help cement ties between Islamabad and Tehran.
Backgrounder
In December 2018, Pakistan National Assembly Speaker Asad Qaisar held meetings with Iranian counterpart Dr Ali Larijani and Iranian President Dr Hassan Rouhani. That held on the sidelines of six-nation Speakers Conference II held in Tehran.
There, they pledged to reinforce cooperation in fighting terrorism. They also agreed that terrorist groups had caused damage to many countries in the region. Hence, Pakistan and Iran should counter them.
Meanwhile, the two sides called for boosting bilateral parliamentary, economic, trade, tourism and counter-terrorism ties.
Specially, Qaiser thanked Iran for hosting the event and voiced regret about the Chabahar terrorist attack.
Besides, he said Pakistan feels honored to have brotherly relations with Iran and expressed Islamabad's resolve to develop trade ties with Tehran.
Qaiser also stressed the need for developing relations between the two nations. Particularly, he vowed that Pakistan wants the eradication of terrorism which requires enhanced cooperation.