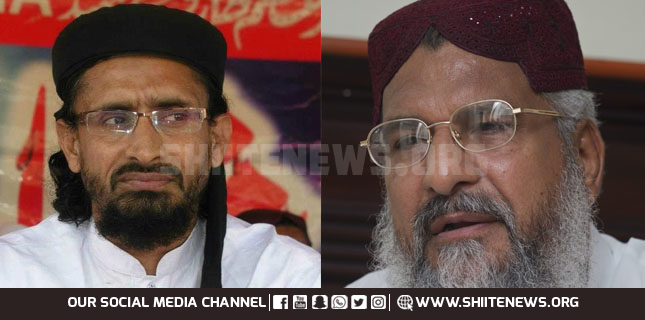 ASWJ ringleaders Ludhianvi and Farooqi banned in Skardu with a view to ensure peace during Chehlum (Arbaeen) anniversary.
Besides, Skardu administration also banned entry of Deobandi Tableeghi Jamaat members.
Reportedly, the administration had learnt that outlawed takfiri terror outfit Sipah Sahaba (ASWJ) had plotted to disturb peace in Skardu.
Specially, ASWJ leaders eyed anniversary of Chehlum (Arbaeen) of Imam Hussain-led Martyrs of Karbala when Shia Muslims observe azadari rituals.
Particularly, M A Ludhianvi and Aurangzeb Farooqi had plotted to disturb peace on 20th Safar azadari rituals. Hence, the administration took precautionary measures and imposed section 144.
Apart from ban on entry of said people, it also imposed ban on pillion riding of motorcyclists.
Backgrounder
Factually, ASWJ or Sipah-e-Sahaba is mother of all terrorism in Pakistan with its subsidiary Lashkar-e-Jhangvi.
The Deobandi takfiri cleric Haq Nawaz Jhangvi founded notorious organisation to demonise Shia Muslims.
Notably, his ideology aimed at inciting Muslims against one another. On the one hand, he imposed a war in Shia Muslims. And on the other, he didn't spare Sunni Bralevis too.
They didn't spare even founder of Pakistan/father of Pakistani nation Mohammad Ali Jinnah and called him heathen.
Resultantly, his hatemongering ideology paved way for Shia genocide across Pakistan. Unfortunately, state authorities too failed to rein in such fanatics.
Hence, Shia community had to point accusing fingers upon state authorities due to their inaction.
But, many in Pakistan believe that Saudi Wahhabi monarchy patronised takfirism since their Wahhabism preach this ideology.
Meanwhile, many also consider US and Israel behind this takfiri ideology because al-Qaida too came into being in Asfghanistan. Then, US-led Western intelligence agencies in collusion with Saudi monarchy recruited, trained and funded such hatemongering militants.