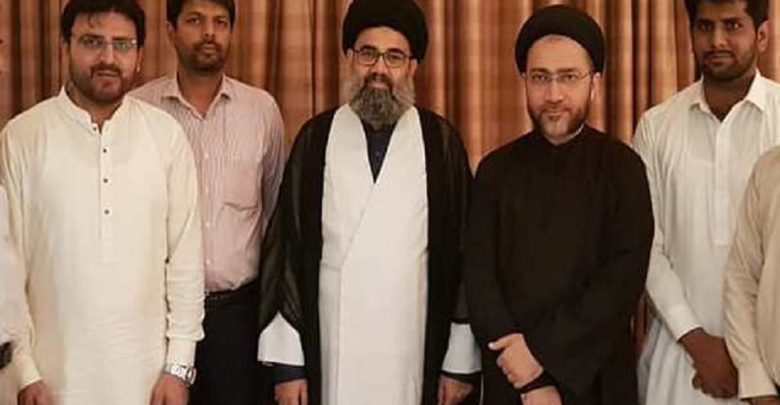 MWM and ISO leaders meet Allama Shahenshah Naqvi in Islamabad to discuss current issues.
Notably, Allama Ahmed Iqbal Rizvi and Nasir Shirazi of MWM and ISO Pakistan President Syed Qasim Shamsi called on him.
Furthermore, they exchanged views on the issues which Pakistanis as a nation face with.
Moreover, they also discussed the issues of Shia Muslim community.
Particularly, the meeting of eminent Shia Islamic scholar Allama Shahenshah Naqvi with Prime Minister Imran Kjhan also came under discussion.
It may be citable that Allama Shahenshah Naqvi apprised PM Khan of the issue of enforced disappearance of Shia notables.
Particularly, he brought to Prime Minister's notice the feelings of the affected families and the community.
Because, undeclared detention of innocent Shia notables anger patriot Shia community across Pakistan.
Backgrounder
Allama Shahenshah Naqvi meets Prime Minister Imran Khan at Prime Minister House in Islamabad on October 3. 
Notably, renowned Shia Islamic scholar Allama Naqvi also presented a dua (pray) to Mr. Khan.
Furthermore, he appreciated PM Khan's speech at United Nations General Assembly.
He cited that Prime Minister Imran Khan forcefully raise the issue of Kashmir.
Moreover, Allama Shahenshah lauded him for slamming the West's Islamophobia.
He expressed well wishes for Prime Minister and presented a dua of Imam Reza (AS).
On the occasion, Minister Ali Zaidi and another close aide of Prime Minister Imran Khan also accompanied him.
Meanwhie, Allama Shahenshah also pointed to the issue of enforced disappearance of Shia notables.
He sought PM Khan's intervention to resolve the longstandingh Shia missing persons issue.
One may recall that Imran Khan had met Allama Shahenshah during his Karachi visits as PTI chairman . Also noteworthy to add that  the said eminent scholar had wished his success for change.
Then, he had also tied him Imam-e-Zamin, a sacred religuious armband, for protection. Since those visits, both have established good and friendly relations.
During Pakistan visit, custodian of the shrine of Khwaja Gharib Nawaz Ajmer Sharif also called on Allama Shahenshah. Furthermore, he lauded his efforts  for unity of Muslims and against sectarian hatred.