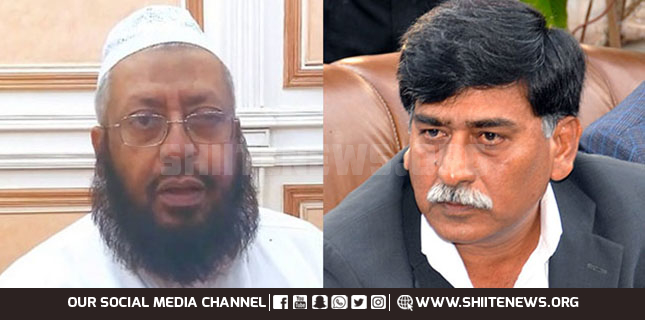 Deobandi cleric Mufti Naeem accused of Shia killings as MQM Haqiqi chairman Afaq Ahmed unmasked his dirty role.
Most importantly, Mohajir Qaumi Movement (MQM Haqiqi) leader slammed Mufti Naeem for Baldia Factory fire and Shia killings.
Deobandi cleric Mufti Naeem
Furthermore, he disclosed that Jamia Binouria al Alamiya (SITE) head Mufti Naeem also abetted Sipah-e-Sahaba (ASWJ).
He said that Jamey Masjid Siddiq-e-Akbar Nagan Chowrangi headquarters (of ASW-Sipah-e-Sahaba) extorted money through Mufti Naeem.
Afaq further said that Mufti Naeem gave shelter to their terrorists and also helped them flee abroad.
Deobandi cleric extorts on behalf of MQM
Meanwhile, he also blamed him for abetting Muttahida Qaumi Movement in their heinous crimes.
Moreover, he said that Mufti Naeem demanded Rs100 million from Baldia Town Factory owner at the behest of MQM's leaders.
Notably, Afaq named former Governor Sindh Dr Ishratul Ibad and another leader of MQM Rauf Siddiqui to extort that money through Mufti Naeem.
Baldia Factory fire
Factually, over 250 innocent people died in a huge manmade fire in Baldia Town factory. Specially, the investigators unearthed role of MQM in that fire and Afaq also discovered dirty role of Mufti Naeem.
However, notorious Sipah-e-Sahaba (ASWJ) remains involved in Shia genocide. And in that too, Jamia Binouria SITE head Mufti Naeem uncovered as facilitator and abettor.