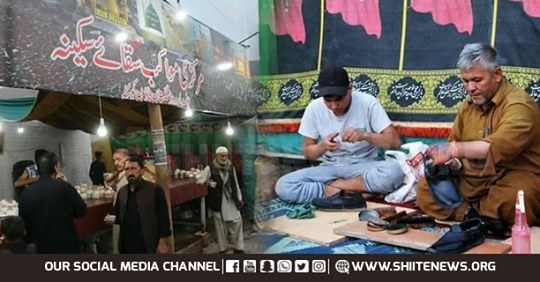 Many Moakkabs provide free stay and food to Arbaeen pilgrims in Quetta. Notably, Moakkab-e-Zainabiyah and Shia residents of Quetta host the pilgrims nowadays.
Moakkab Zainabiyah Quetta
Particularly, Gulistan Society residents and Moakkab Zainabiyah are hosting Zaireen.
The Pakistani pilgrims go to Karbala pilgrimage on Arbaeen via Taftan land border with Iran. However, they stay in Quetta prior to their departure to Taftan.
Since the government authorities fail to facilitate the Zaireen satisfactorily, hence the community came forward.
Moreover, they provide free stay with all needed facilities such as food. Furthermore, the hosts respect pilgrims of Karbala shrine of Imam Hussain to the extent that they also polish their shoes.
Meanwhile, they vowed that after Arbaeen, they will set up such Moakkab at Taftan border to receive pilgrims there. They will offer similar facilities there as well.
Arbaeen Pilgrimage
Most importantly, Pakistanis go to pilgrimage of sacred shrines. Although they regularly visit shrines of infallible Imams of Shia Islam, yet 20th Safar remains reserved for pilgrimage of Karbala.
Notably, Zaireen (pilgrims) regularly visit holy shrines of infallible Imams of Shia Islam in Iraq, Iran and Medina .  But, they commemorate anniversary of 40th day (Arbaeen in Arabic and Chehlum in Urdu) of martyrdom anniversary of Ashura on 20th Safar.
Ashura to Arbaeen
Factually, Ashura too remains a special day of scared mourn in Shia Islam. That's because of matchless martyrdoms of Imam Hussain-led Martyrs of Karbala. However, infallible leaders of Shia Islam had emphasised on pilgrimage of sacred shrine of Imam Hussain on Arbaeen.
Hence, Shia Muslims try their level best to reach Karbala (Iraq) on 20th Safar.
Arbaeen Visa Policy irks Pakistanis
Punjab Government focal person for inter-faith ramony yed Asad Abbas Naqvi dispatched this letter to Iraqi ambassador to Pakistan.
Furthermore, he requested the diplomat to ask Iraq government to relax Arbaeen visa policy for Pakistanis.
The official noted with concern that this year, Iraq governemnt changed visa policy for Pakistanis.
Moreover, he pointed to the fact that embassy and consulates issue visas but Iraq wants approval from Baghdad.
However, he reminded that this different visa policy will also deprive Pakistanis of Arbaeen pilgrimage, let alone financial losses.
Therefore, Asad Abbas Naqvi asked Iraqi ambassador to play role in resolving this issue at the earliest.
MQM Pakistan leader demands
In this regard, Federal Minister and MQM Coordination Committee head Dr Khalid Maqbool Siddiqui also issued a statement.
Notably, he pointed to the fact that at least 200,000 Zaireen could not go to Karbala pilgrimage on Arbaeen.
Siddiqui asks PM and FM
Furthermore, Dr Khalid Maqbool also asked Prime Minister Imran Khan and Foreign Minister Qureshi to talk to Iraqi government on the matter.
However, he urged d the Iraqi government to reconsider their different policy for Pakistani Zaireen.
On the other hand, MWM leader also sendt letter to Iraqi PM on Arbaeen visa problems amid widespread complaints from Pakistani Zaireen (pilgrims).
Besides, Allama Raja Nasir Abbas Jafari also directed Majlis-e-Wahdat-e-Muslimeen Foreign Affairs head Allama Shafqat Shirazi in this regard.
On directives of MWM Pakistan secretary general, Allama Shafqat also interacted with Iraqi parliamentarians and public opinion makers. He briefed them on Pakistani Zaireen's problems in getting approved visas.
Meanwhile, MWM Political Affairs head Asad Abbas Naqvi contacted special assistant to the Prime Minister Zulfi Bukhari.
The latter assured that he would leave no stone unturned to address the problem.