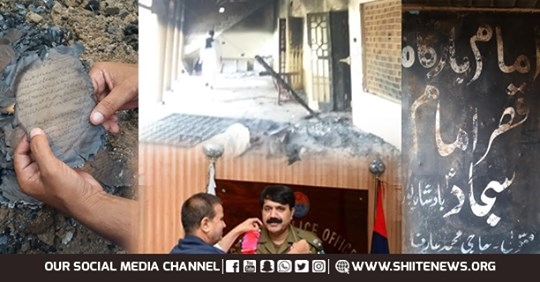 Banned Sipah-e-Sahaba (ASWJ) arsonists continue to remain free despite setting a Shia mosque on fire in Malakwal.
Unfortunately, Pakistani and foreign media also remain indifferent to the tragic attack in Mandi Bahauddin district.
Factually, ASWJ terrorists stormed into Shia mosque/Imam Bargah Qasre Imam Sajjad in Badshahpur village.
Then, they desecrated the sanctity of the premises by setting and each and everything on fire.
Furthermore, they incinerated copies of Holy Quran and frames of sacred names of God, Prophet Mohammed and Imams.
Since August 05, 2019 to date, police failed to arrest notorious terrorists for the arsonist attack.
Moreover, reports had it that police enjoys higher authorities support for inaction against terrorists.
Meanwhile, a close aide of the Prime Minister, Nadeem Afzal Chan is also reportedly trying to protect the culprits.
It also remains notable that ASWJ has different names such as Sipah-e-Sahaba or Lashkar-e-Jhangvi.
However, the desecrating arsonist attack has shocked and saddened Shia Muslim community. Particularly, they noted criminal silence from even those who raised hue and cry over desecration of Hindu temples.