Pakistan
Ten martyred in Muzaffarabad suicide blast at ImamBargah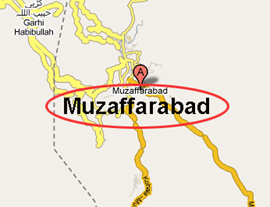 At least Ten mourners (Azadar) were martyred killed and more than 81 mourners (Azadar) injured in a suicide bomb blast as suicide bomber blew himself up in a failed attempt to enter Imam Bargah at Central Imambargah Muzzaffarbad,
(Azad-Kashmir), where the mourners were gathered to commemorate the sacrifice of Imam Hussain (AS) and progeny of Holy Prophet Mohammad (PBUH). Police and rescue teams arrived at the scene and shifted the injured to nearby hospitals.
 
Maulana Kifayat Hussain, local leader of Azad Kashmir confirmed the casualties of six mourners in a suicide bomb blast at Muzzaffarabad, Azaad Kashmir Central ImamBargah.
However, Azad Kashmir Housing Minister claimed that more than 10 mourners were lost their lives in the suicide bomb blast at Azad Kashmir Imam Bargah.