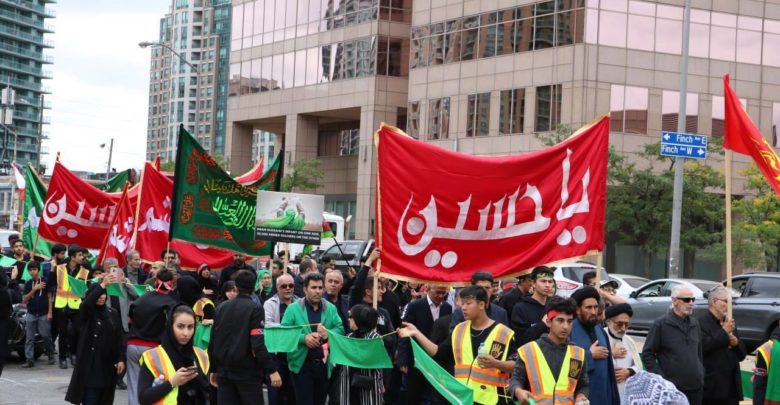 Ashura was observed across Pakistan, like many other countries around the world with reverence to pay homage to Imam Hussain-led martyrs of Karbala.
Notably, main mourning congregation or azadari procession  held at the shrine of Imam Hussain in Karbala, Iraq .
Iran, Lebanon and Yemen also saw huge mourning rallies.
Most unfortunately, Yemen has remained under Saudi-imposed war. While Bahrain and Saudi Arabia monarchies imposed uncalled for restrictions but Shia Muslims defied them and observed Ashura.
Meanwhile, Azadars also brought out Ashura processions in many US cities, particularly in New York.
Similarly, reports of huge azadari processions received from Tokyo in Japan, Toronto in Canada. Many other cities in UK, EU countries, Australia, Asia and Africa also witnessed Ashura azadari.
However, Pakistan saw special security arrangements due to terror threats. Morever, millions of azadars participated in Ashura mourning all over Pakistan.
Karachi
In Karachi, the main Ashura procession started at Nishtar Park and concluded at Hussainian Iranian Imambargah in Kharadar.
Lahore
In Lahore, the main procession started at Nisar Haveli at midnight. Later, it culminated after passing through Mochi Gate, Mori Gate, Wazir Khan Mosque, Paniwala Talaab areas. Furthermore, Namaz-e-Zohrain held at Rung Mehal.
Later, the procession culminated at Karbala Gamay Shah.
Quetta
The procession in Quetta has also reached destination. Namaz-i-Zohrain offered at the Bacha Khan Chowk area. Amid tight security, the processio began from Alamdar Road. It passed through the traditional routes before culminating in the Alamdar Road area of Marriabad.
Dozens of small processions were  also taken out in the city and they all gathered at Alamdar Road.
Rawalpindi
According to Radio Pakistan, the main procession in Rawalpindi emerged from Imambargah Colonel Maqbool Hussain and culminated at Imambargah Qadeemi in the Bani area.
The procession routes were dotted with sabeel stalls which are providing water, milk and tea to mourners.
Peshawar
In Peshawar, multiple Ashura processions were taken out and concluded. Notably, those processions passed through the traditional routes.