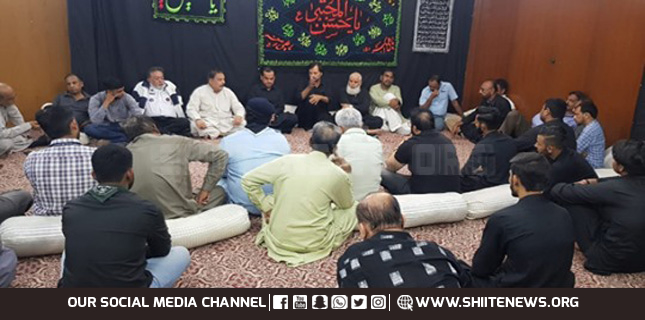 Shia parties have turned down uncalled for restrictions on azadari congregations and processions in Karachi and rest of Pakistan.
Most importantly, almost all major parties sat together to discuss the illegal restrictions on old and permitted azadari processions.
Notably, Jafaria Alliance Pakistan hosted the huddle at Imam Bargah Hussaini PECHS where Tanzeem-e-Aza, Pasban-e-Aza, ISO and IO also attended. Moreover, Scouts, focal persons and trustees also attended the meeting.
Furthermore, Shabbar Raza, additional secretary general of the alliance briefed them on current situation.
He said that the concerned authorities are not allowing the azadari processions taken out since 1947. He further said that administration stopped old and licensed mourning processions.
Meanwhile, he also said that the authorities had refused to transfer those permits and licenses to the heirs of deceased holders.
Keeping in view those legitimate grievances, participants vowed to counter the illegal and anti-azadari policy. They further vowed that they would not compromise on inalienable rights of Shia Muslims.