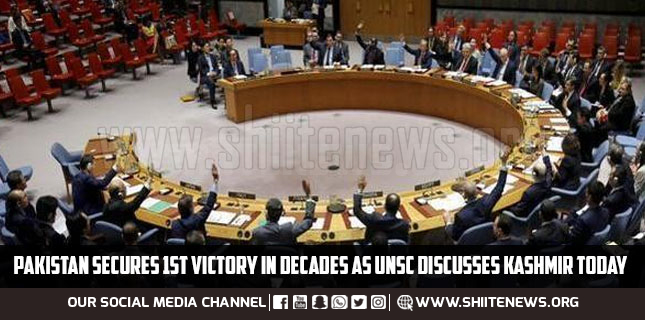 Finally, the UNSC discussed the Kashmir issue and Pakistanis can see it as the first victory in decades on the Kashmir dispute.
Ambassador to the United Nations Maleeha Lodhi rightly said that voices of Kashmiris heard today at the meeting of the United Nations Security Council (UNSC).
Unfortunately, India has gagged the people of (occupied) Jammu and Kashmir locked up them in their houses and their own land.
But, India failed to stop UNSC which held a consultative meeting on Friday to discuss the Kashmir issue.
Furthermore, Pakistan urged the UNSC to implement its own resolutions on this 70-year-old dispute.
Notably, China had called the meeting on Pakistan's request to discuss the prevailing situation in occupied Kashmir. In that closed door meeting, briefings given on the situation and consultations will take place to decide how to proceed further.
Later, Ambassador Lodhi held a media briefing following the conclusion of the meeting. She said that Foreign Minister Shah Mahmood Qureshi had written a letter requesting the UNSC huddle also and that the meeting came within 72 hours after it.
Pakistan remains thankful to China in also joining the former in calling this meeting.