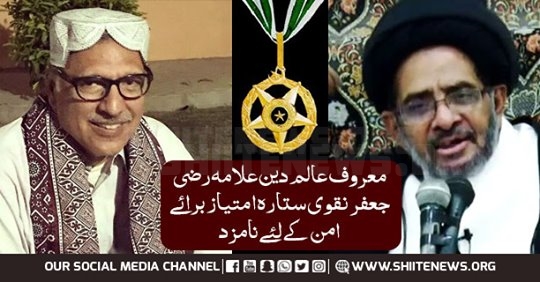 President Dr Arif Alvi has approved conferment of Pakistan Civil Award upon distinguished Shia Islamic scholar Allama Syed Razi Jafar Naqvi in recognition of excellence and courage in his respective field.
Most importantly, this highest civil award to a well-known senior religious scholar evokes praise from the nation.
Notably, Allama Razi Jafar Naqvi needs no introduction since his credentials already listed him atop among Pakistani scholars. He heads Tanzeemul Makatib Pakistan, runs seminaries and social services network.
Due to that he enjoys a special status in society. Therefore, President approved conferment of Sitara-i-Imtiaz upon him.
As per tradition, President of Pakistan approves the award conferment on Independence Day on August 14. However, the investiture ceremony of these awards will take place on Pakistan Day, March, 23, 2020.
According to a press release by Cabinet Secretariat, awards approved for 116 Pakistanis and some foreign nationals in recognition of their excellence and courage in their respective fields.