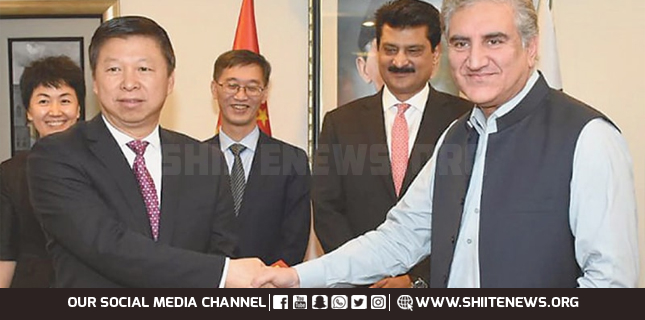 China has offered its complete support to Pakistan for approaching the UNSC (United Nations Security Council) with a motion to condemn India over ending (IOK) Kashmir's special status.
Most importantly, Pakistani and Chinese foreign ministries have named a focal person each at the director general level. And they will coordinate a joint strategy.
Foreign Minister Shah Mahmood Qureshi disclosed this at a press conference in Islamabad yesterday. He has earlier visited Beijing, where he took his Chinese counterpart, Wang Yi into confidence over Pakistan's concerns.
Notably, Qureshi said that he shared Pakistan's intention with China for taking the India's latest anti-Kashmir measures to the UNSC.
Furthermore, he said that, not only they [Chinese leadership] assured their complete support. But, they also issued instructions to their UN representative to remain in contact with our representative and to keep their consultations ongoing, he said.
Foreign Minister Qureshi noted that China has taken a position whereby it views Jammu and Kashmir as a disputed region. But, he hastened to add that China is of the view that the solution to the dispute lies within the UN resolution.
Pakistan also planned to approach Indonesia and Poland — both non-permanent members of the 15-strong Security Council — as well, for their support.
Furthermore, Qureshi also said that China viewed India's actions in occupied Kashmir to be unilateral. He warned of a negative side to Indian actions in the form of an enhanced threat" to peace and security in the region.
Particularly, he referred further violation of human rights and use of pellets guns against Kashmiri protesters.