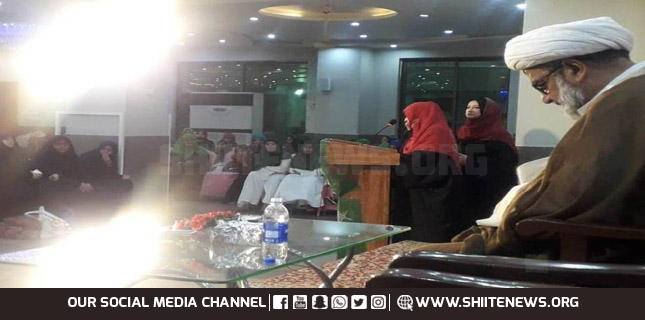 MWM leader Allama Raja Nasir Abbas Jafari has highlighted the role of Wali-e-Faqeeh and Marajaeen during the occultation of the 12th infallible Imam (Mahdi).
Most importantly, addressing MWM women wing ceremony, he underlined cardinal role that Wali-e-Faqeeh and other Marajaeen are playing.
MWM leader cited that Wali-e-Faqeeh Ayatollah Khamenei and other Marajaeen chalked out a foolproof strategy that inflicted defeat on Daesh.
Most importantly, role of Wali-e-Faqeeh and other Marajaeen remain cardinal till reappearance of Imam Mahdi.
Otherwise, he said, notorious Daesh takfiri terrorists would have demolished the sacred shrines of infallible Imams (AS) and also of Syedda Zainab (AS).
Meanwhile, Allama Raja Nasir also spoke on performance of MWM women wing. He said women are also taking active part from the platform of Majlis-e-Wahdat-e-Muslimeen.
Furthermore, the MWM secretary general expressed hope that women too would largely participate in Allama Arif Hussaini's martyrdom anniversary programme.
Moreover, Syeda Zehra Naqvi of MWM women wing also spoke. At the conclusion, they distributed prizes.