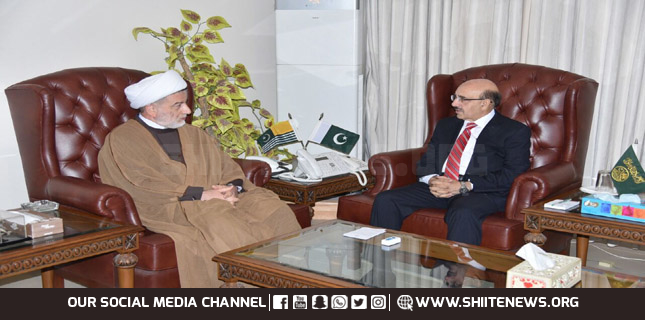 A five-member parliamentary delegation of Iraq called on many parliamentarians and senior politicians during their visit to Pakistan. They also met Azad Jammu and Kashmir (AJK) President.
Most importantly, leader of the Islamic Supreme Council of Iraq Hamam Hamoudi led the delegation.
After a meeting with President of Pakistani Kashmir Sardar Masood Khan in Muzaffarabad, he also talked to the media.
There, Hamoudi emphasised the need for resolving issues between Pakistan and India through talks, especially the Kashmir issue.
Furthermore, he exhorted the need for talks between Pakistan and India for the resolution of all issues, including Kashmir.
Hamoudi underlined importance of inevitability of durable peace development, prosperity and stability of the region.
Moreover, Leader of the Iraqi parliamentary delegation said that his government was desirous of bilateral cooperation with Pakistan.
He said Iraq government wants bilateral cooperation in different sectors, including education, health and energy.
Earlier, Hamoudi had met Syed Fakhar Imam, Chairman Parliamentary Committee on Kashmir.
Meanwhile, he also called on Chairman National Assembly Standing Committee on Foreign Affairs Malik Ehsanullah Tiwana in Islamabad.
Pakistan Iraq Hamam Hamoudi