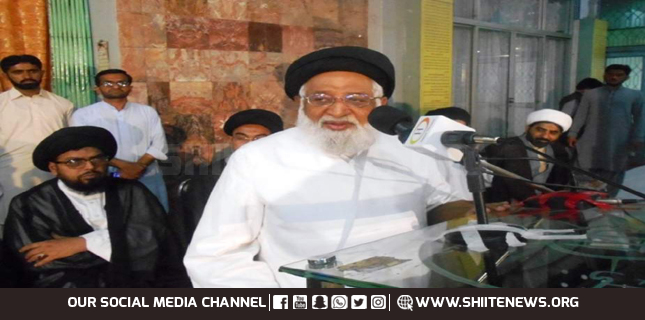 Prominent Shia Islamic scholar Hafiz Syed Riaz Hussain Najafi defends the guardianship of qualified Islamic jurisprudent and government under him.
Most importantly, he declared Wilayat-e-Faqeeh continuation of the State of Medina or the government under qualified Islamic jurisprudent.
He expressed these views delivering Quranic lecture at Jamey Ali Masjid in Jamiatul Muntazir Lahore.
Furthermore, he emphasised that qualification of jurisprudent is not enought to become Wali Faqeeh but it requires some other qualities as well.
Most importantly, Allama Riaz Najafi said that only comprehensively qualified just, pious, fully aware of requirements of the time, valiant Islamic jurisprudent remains eligible to become Wali-e-Faqeeh.
However, he also made clear that aforesaid Wali Faqeeh remains the sacred position to govern Islamic state during occultation of infallible Imam.
Moreover, he cited that Imam Mahdi has divine right to rule the world as per Islamic creed.
Allama Riaz made clear that Wali Faqeeh government not an Iranian idea as it remains an Islamic idea.
But, he admitted that great Islamic jurisprudent Imam Khomeini's founded Islamic government in Iran and grand Ayatollah Khamenei leadership lead and guide that now.
Meanwhile, he cited that as per Shia Islamic teachings, Wali-e-Faqeeh has right to form government or lead Islamic Ummah during occultation of Imam Mahdi.
z riaz wilayat faqeeh