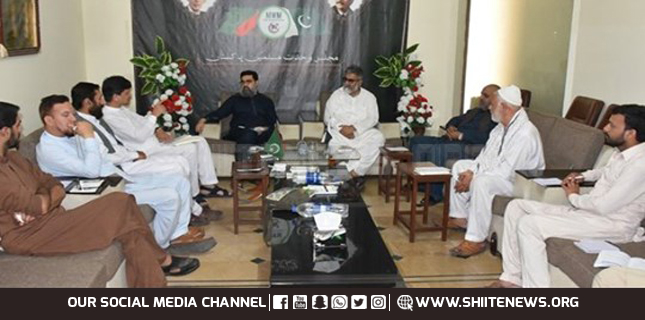 MWM central cabinet meeting discussed arrangements being made for Nasiran-e-Wilayat Conference to mark the martyrdom anniversary of Allama Arif Hussaini.
Majlis-e-Wahdat-e-Muslimeen secretary general Allama Raja Nasir presided over the meeting at Islamabad secretariat.
Most importantly, MWM leaders renewed their pledge to keep the ideology of Allama Arif Hussain al Hussaini alive.
Furthermore, Allama Raja Nasir said that MWM observes anniversary of Allama Hussaini's martyrdom befittingly to show enemies' failure.
He cited that on August 5, 1988, enemies thought to kill his ideology when they assassinated Allama Hussaini. But, he added, enemies were wrong.
Moreover, MWM leader said, ideology of Allama Hussaini aimed at making Pakistan a free and independent country as per true Islamic vision.
He also referred to anti-imperialistic aspect of Allama Hussaini's ideology and said that he rightly pointed to foreign meddling into Pakistani affairs. However, we'll continue that mission, he vowed.
MWM central cabinet meeting